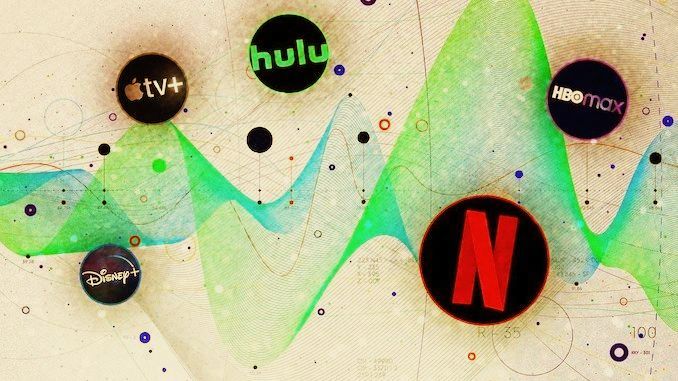 Streaming services are scrambling for new strategies to retain their existing subscribers in a highly crowded domestic market. The level of churn among premium streaming services like Netflix, HBO Max, and Disney+ has accelerated.

Among the top ten premium streamers, there were more than 32 million cancellations between June and September 2022, compared to 28 million in the year's first half. All signs point to this trend gaining momentum this winter and into 2023.
Content Distribution is More Transformative Than Ever Despite Hopes of a Return to Normalcy
The streaming landscape continues to transform, leaving most consumers whiplashed with all the diverging subscription models and options from a growing list of providers. Instead of favoring a one-size-fits-all model for its global subscribers, 2022 was the year that broke Netflix's longstanding resolve against an advertising tier.
Fueled by a surplus of cheap debt for decades, Netflix is finally putting the brakes on its content spending, as well as enforcing password-sharing restrictions and downsizing several departments. The company was seemingly shocked after losing subscribers in back-to-back quarters in the year's first half– a first for the king of streaming.
The rate of streaming subscriber additions in the first half of 2022 compared to the same period in 2021 was down a staggering 45%. The industry hopes this result is just an abnormality, but all signs point to a cancellation trend that is just getting underway.
Disney Streaming and the services offered by the newly created Warner Bros. Discovery (WBD) have assured shareholders that, unlike Netflix, which has never much cared about profitability since its investors seemed indifferent, their streaming division would be profitable by 2024. With slowdowns in progress, these claims are overly optimistic as economic headwinds start to blow.
Detecting these challenges, Netflix and Disney reverse course and are now embracing advertising. In another reversal, HBO Max is available again on Amazon Prime Channels after a year hiatus stemming from a decision to pull the streaming service made under the incomparable management of AT&T.
Notwithstanding these changes, all major studios are exploring various options to monetize their libraries through paid ad-supported service (AVOD) and free ad-supported service (FAST).
---
Uncover past, present, and future rate cards for episodic television content streaming in multiple availability windows worldwide.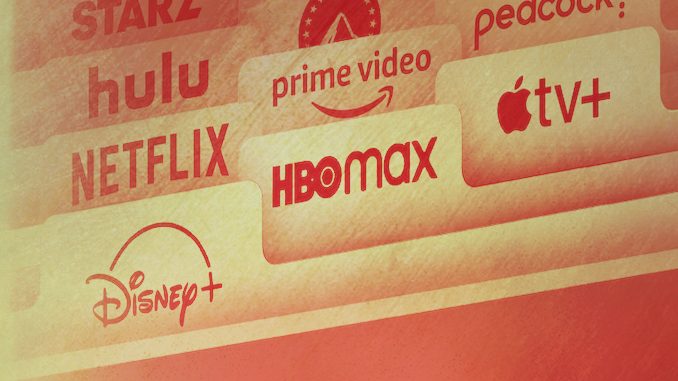 Your gateway to SVOD episodic licensing rates in dozens of territories in Europe and North America.
Draw upon nonpublic rates to ascertain content values.
There are 95 pages in three PDF reports showcasing rate cards and relevant terms aggregated from a dozen SVOD Licensing Agreements. Also included is an MS Excel Workbook with 1,300+ data points for custom research and analysis.
---
Netflix's Subscribers Remain Loyal Despite Growing Churn Among Subscribers
Since there is an ever-growing number of streaming options available, many subscribers rotate between several platforms often to take advantage of a smash hit before canceling, e.g., Apple's Ted Lasso and HBO Max's Dune.
In the second half of 2021, after the season of Ted Lasso finished, nearly 20% of Apple TV+ subscribers planned to cancel. Apple's opaque reporting makes it impossible to substantiate these claims.
Likewise, over 7% of HBO Max's subscribers planned to leave after watching Dune, which is more substantial considering the amount of content available on HBO Max compared to Apple TV+.
According to recent surveys, nearly half of all US subscribers rotate between multiple SVOD services several times a year. However, Netflix is an anomaly to this trend, as its subscribers remained loyal while switching between its competitors. However, this trend recently reversed in September 2022 when 6% of Netflix's subscriber base churned, resulting in a continued loss of domestic market share.
Subscribers seemingly crave multiple subscriptions options, as all three top domestic services that offer numerous tiers (AVOD & FAST) saw increases in household penetration from quarter-to-quarter Peacock (2.7%), HBO Max (2.2%), and Hulu (2%). The Direct-to-Consumer strategy implemented by the major studios aims to attract viewers via an ad-supported pay service or free ad-supported service and then upgrade them to premium subscribers through improving user experience and content additions.
Share of New US Streaming Subscriptions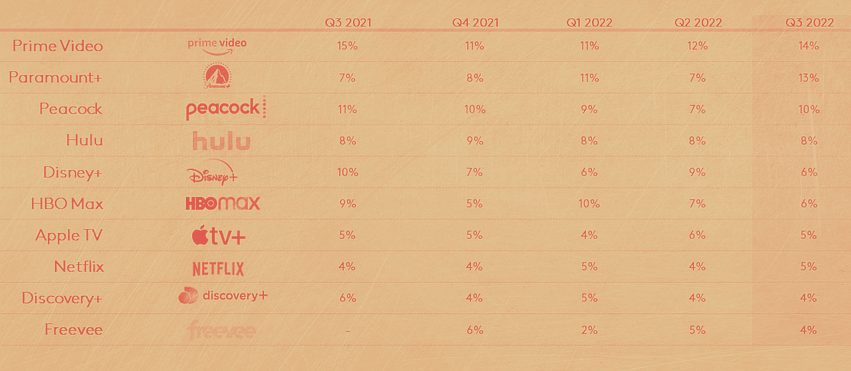 ---
FilmTake Away: Multi-Tier Streaming Subscriptions Are Here to Stay
While the overall streaming market is flat-lining with mounting SVOD cancellations, paid ad-supported (AVOD) and free ad-supported (FAST) services are continuing to grow, signally continued downsizing by streaming subscribers.
However, these generalizations are not without exceptions. For example, Hulu's SVOD service propelled Q3 2022 growth, but at Peacock, its paid AVOD service was the driver.
Uncover what Disney+, HBO Max, Netflix, Amazon, and other leading SVOD services pay to license feature films and episodic television content with unrivaled media business intelligence.
---