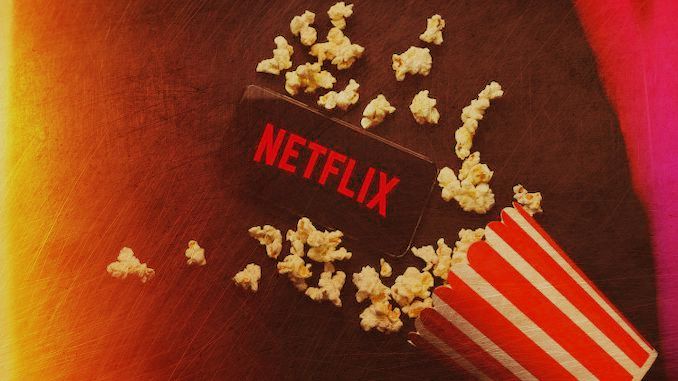 In a move that its streaming competitors are likely to emulate, Netflix recently released Glass Onion, the sequel to Lionsgate's Knives Out, in nearly 700 theaters on the traditionally strong Thanksgiving weekend, essentially as a sneak preview.

However, unlike most limited releases that aim to build on word-of-mouth to secure a wider release, Netflix pulled the film after only 17 days to sit in a 23-day blackout period before becoming available to Netflix's subscribers on December 23.
Theater Owner Beggars Can't Be Choosers
The war of words between NATO (National Association of Theatre Owners) and Netflix is seemingly water under the bridge as exhibitors struggle to recover after widespread global lockdowns decimated the theatrical market. Although there are some bright spots here and there, the exhibition market will take years to recover to 2019 levels, if ever, even under the best scenario.
One of these bright spots is Netflix's latest release, Glass Onion, which marks its most expanse theatrical campaign to date after being at odds with NATO since it first tiptoed into theaters with the day-and-date release of Beasts of No Nation in 2015. Following its first foray, Netflix shocked the industry by receiving a leading 24 Academy Award nominations in 2020, more than any other distributor, including two for Best Picture with The Irishman and Marriage Story. Netflix received its first Best Picture nomination in 2019 for Roma when it collected 15 overall nominations.
Netflix signed deals with all top three cinema circuits (AMC, Cinemark, Regal) to release Glass Onion in the U.S., an unthinkable occurrence pre-lockdowns. Glass Onion was released in 696 theaters for 17 days before a 23-day blackout in all formats when it will be available to Netflix's 220 million global subscribers on December 23.
Although the film was only in theaters for just two weeks, the releasing model doesn't technically break the minimum theatrical exclusivity window of 30 days since there is a blackout period.
Not too long ago, theater owners enforced a strict 90-day window before giving way to a 45-day window that was the final line in the sand, but here we are with just 30-day exclusivity. As recently as 2019, Netflix failed to convince any of the three major stateside exhibitors to accept a 45-day window for Martin Scorsese's The Irishman.
Domestic box office receipts in the first half of 2022 reached just 60% of 2019's first-half total, with the return of more major studio releases and increasing consumer demand.
---
Did Netflix Leave Money on the Table?
Many industry commentators have lambasted Netflix for leaving hundreds of millions on the table with Glass Onion since the first installment, Knives Out, grossed over $165 million domestically.
Earnings Per Theater Comparison – Fall/Winter 2022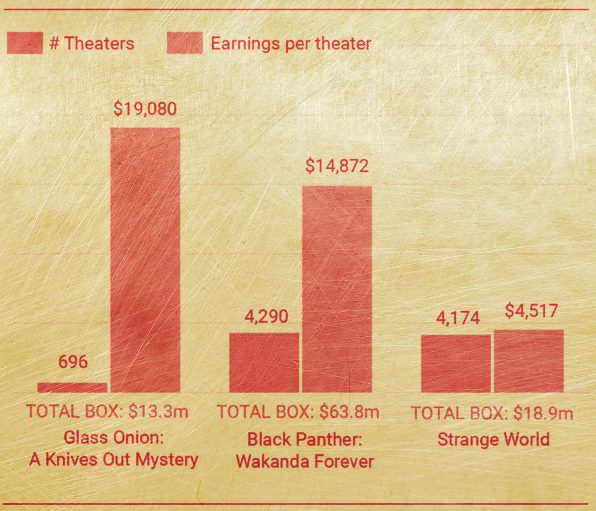 However, after exhibitor splits and an expensive advertising campaign, Netflix likely surmised that the juice wasn't worth the squeeze.
Regardless of the economics, a consistent stream of films from Netflix and other streaming services screening in 700+ theaters will generate much-needed revenue for struggling exhibitors.
---
Worldwide Film & Television Distribution Intelligence
Get unparalleled access to market intelligence reports that draw on financial data and insights from dozens of content distribution deals worldwide between key industry participants, including — Distributors, Producers, Broadcasters, MPVDs, Pay Television Providers, and Streaming Exhibitors.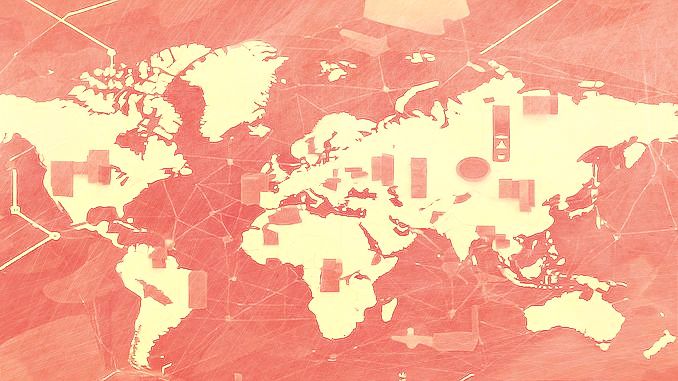 Film and Series distribution rates and terms deriving from dozens of agreements for rights to transmit films and episodic television via PayTV and SVOD.
Choose flexible options for single-user PDF downloads.
Licensing Terms & Included Programs:
Pay-1 & SVOD Rate Cards for Motion Pictures and Series Exhibited Worldwide in Multiple Availability Windows
Motion Pictures: Pay-1, First Run, Second Window Features, Recent Library Features (Tiers AAA,A,B,C), Library Features (Tiers AAA,A,B,C), Current and Premium Made-For-TV Films and Direct-To-Video Films, covering many license periods over the last decade
Episodic TV: Current, Premium, Premium Catalog (1HR & 1/2HR), Catalog Series (1HR & 1/2HR), and Catalog Miniseries + Case Studies on Current Mega Hit, Catalog Mega Hit, and Premium Catalog, covering many licensing terms from 2012-2024
Because most-favored-nation rates operate in practice, the rates and terms apply to a diverse range of content and distributors worldwide in multiple availability windows.
---
Streaming Feeding Frenzy Inflates Rights Deal
After the distressed Lionsgate failed to greenlight a sequel to Knives Out, there was a feeding frenzy among the big three streamers, Amazon, Apple, and Netflix, to secure a future for the franchise.
According to those close to the deal, Netflix paid over $450 million for the rights to Glass Onion and a third installment of the franchise.
However, by his own admission, the CEO of Netflix is not looking to build a theatrical business, but rather the streaming giant is "trying to break through the noise" in an ever-fragmenting and confusing media landscape.
---
FilmTake Away: Win or Lose, Netflix's Releasing Model Will Spawn Imitators
It remains to be seen if Netflix's strategy will lead to new subscribers or bolster existing ones from churning, and given its select financial reporting, it will likely remain unknown. However, Netflix's experiment establishes a new window for films to generate buzz that will eventually translate into more revenue in subsequent licensing windows.
The model also underscores the notion that these are premium films, increasing their respective longevity and overall value, thus providing future opportunities to leverage or create additional intellectual property.
---