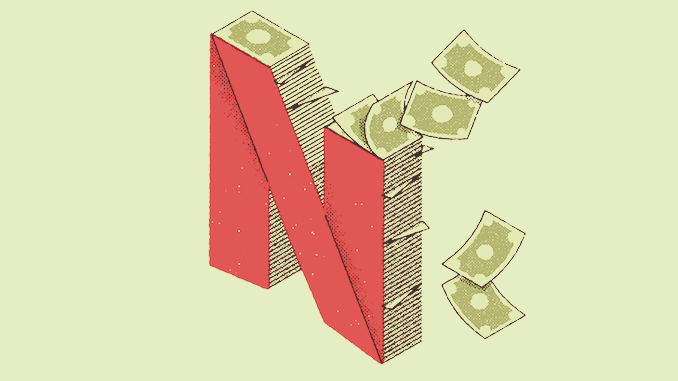 Multiple factors are converging simultaneously that risk stalling Netflix's growth at home and abroad.
Beyond ballooning content and acquisition costs, fueled by costly debt, there are five additional obstacles that will challenge Netflix's streaming dominance.
---
1) Quality Control
First and foremost, there has been a noticeable deterioration in the quality of Netflix's original content. This is to be expected when producing hundreds of films and series content around the globe. As it stands, Netflix has a handful of original shows that propel new subscriber growth.
While Netflix claims that its original programming propels new subscribers, it is certainly not translating to viewership. Of the content available on the platform, 72% of all viewership is for films and shows produced by companies other than Netflix.
---
2) Direct Competition
Second, Netflix will soon face stiff competition from the world's largest media companies when three major studios and Apple introduce new streaming services.
Series content from the three largest content providers account for nearly 60% of Netflix's programming in terms of minutes viewed (Disney 19%, NBCUniversal 19%, and WarnerMedia 17%).
These three studios are launching direct challenges to Netflix, and will soon pull their content from the service. Disney is removing its content from Netflix for its forthcoming streaming service Disney+ and both Friends and The Office are no longer going to be available once their licensing terms expire.
---
3) Alienating Subscribers
Third, many subscribers have complained that much of Netflix's original content is alienating large swaths of its longtime loyal subscribers that will find it easy to switch to another streaming service. This is especially true for families with young children that will be attracted to Disney+.
---
4) Pricing
Fourth, Netflix raised the price of its standard plan in January 2019 to $12.99, up 45% since 2014 when it cost $8.99 per month.
Beginning in February, Hulu lowered its pricing for its most popular plan from $7.99 to $5.99 per month. Hulu's announcement came one week after Netflix said it would raise the price of its most popular plan from $10.99 to $12.99 per month.
Disney+ will launch on November 12th costing subscribers $6.99 per month; half the price of Netflix. Besides a huge collection of films from Disney Animation, Pixar, Marvel, and Lucasfilm, subscribers will have access to 25 episodic series from Disney and Fox.
Netflix continues to raise its monthly fee in an effort to turn a profit. The company is running a dangerous gambit by raising prices while provide fewer content options.
A recent survey revealed what would cause subscribers to end their Netflix plan. Pricing was the top concern, 55% of respondents said $11.99 would be the top price they would pay
---
5) Streaming Carousel
Lastly, the growing trend among subscribers, especially those under 30, that rotate between three or four services throughout the year will not only impact Netflix, but also Hulu and streaming newcomers. Amazon Prime is insulted from this problem, since its service is still an add-on to the shipping service.
---
Ballooning Costs
Netflix wins at home and abroad by outspending the competition at a rate that is unsustainable. The company spent $9 billion to produce and acquire films and series content in 2018, and plans to spend $10 billion on original content in 2019 – more than Amazon, Apple, HBO and other streaming services will spend on a combined basis.
Through the first six months of 2019, Netflix's customer acquisition costs have ballooned to $292 per subscriber.
Based on the standard service fee of $12.99, a subscriber would have to remain a paying customer for nearly two years in order for Netflix to breakeven just on the acquisition costs, which does not include content production, licensing or operations. Even at 2018's acquisition rate of $180 per subscriber, it would take nearly 14 months to recoup marketing expenses.
Obviously, spending double the amount to acquire half the subscribers is not a recipe for success.
---
FilmTake Away
The greatest innovation that Netflix is capable of contributing, namely a reliable global streaming service, is already in the company's past. Moreover, since Netflix doesn't have a competitive advantage in content creation, it's left spending greater and greater sums to acquire and produce content.
With most major studios pulling content from Netflix over the next two years, the streaming paradigm is set to shift. Although, it's quite possible that Netflix's 150 million-subscriber head start proves impossible to compete against. The studios could be forced to license content back to Netflix if their forthcoming streaming services falter.
---