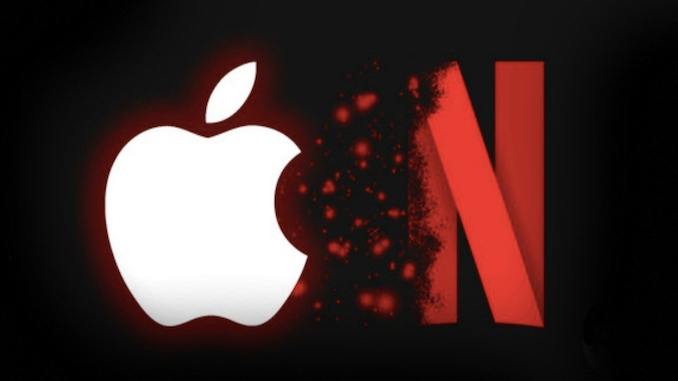 Apple has too much cash and not enough imagination. The company has amassed roughly $250 billion in cash, which is growing by $50 billion a year.
There is growing speculation that Apple will buy Netflix.
Apple has sidestepped repatriating cash to the United States to avoid paying taxes. However, recent changes to the country's tax code would allow Apple to bring its overseas cash hoard home for a one-time 10% tax. After paying the tax, Apple would have around $220 billion – more than enough to buy Netflix outright.
The computer giant, which hasn't developed a single new product since the death of Steve Jobs, is losing its magic. Apple's current CEO seems more occupied with acting as Silicon Valley's thought police then added to the company's unmatched legacy. Besides more widespread censorship issues, the company has already proved it will censor even the most mundane details. On a series made by M. Night Shyamalan, Apple executives requested that crucifixes appearing on the walls on the main character's home be removed.
---
Now or Never
After a decade of streaming supremacy by Netflix, almost every major media company is simultaneously launching competitive streaming services over the next year, including Disney, WarnerMedia, NBCUniversal, Viacom, and a host of smaller players.
Apple has been tiptoeing around launching a streaming service for years. Much like Netflix's strategy prior to producing original programming in 2013, Apple prefers an aggregation model.
Apple's streaming service is expected to launch sometime this spring, but with so many new services hitting the market at once, such a move would almost certainly doom the venture out of the gate. This is doubly true if WarnerMedia and Disney start withdrawing content from Netflix and others platforms to make it exclusive on their own streaming services.
Apple's streaming service is slated to be available in over 100 countries.
Netflix's current market cap stands around $150 billion; accounting for its debt load and a 20% premium on its current stock price, Apple could easily acquire the streaming giant for cash.
Analysts at Citibank think there is a 40% chance that Apple will purchase Netflix this year.
The buyout of Time Warner for $85 billion by AT&T, and Walt Disney's $71 billion takeover of 21st Century Fox mark the greatest consolidation of media assets in history.
Disney and Comcast are set to control 40% of all original and licensed programming spending in the United States. With Comcast's acquisition of Sky, Disney and Comcast will now control over 20% of worldwide programming spending.
It's now or never if Apple wants to compete in the content streaming market.
---
Apple Postpones Again
Although, Apple has announced on several occasions that $1 billion is earmarked for producing content, the company has little to show for it.
Apple has twice postponed the launch of its first slate of shows. Producers and agents involved in projects at Apple expect the date to be pushed back once again.
The company's implied concerns are that programming decision could ruffle feathers and lead to a boycott of its phones and computers. In an age of hypersensitivity amplified by social media, one wrong move by a company can propel a viral movement pushing for retribution.
However, Apple's delays might have more to do with the quality of the content rather than a fear about upsetting the wrong demographic.
Apple's top-down control is not sitting well with content creators and producers, and has already caused several departures by producers and talent shopping projects.
---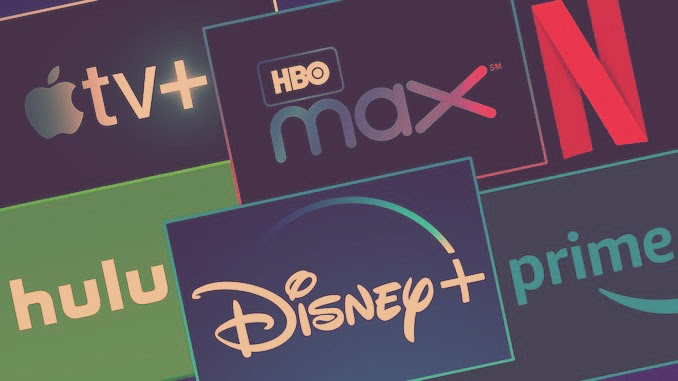 Accurately value film streaming revenue by combining comprehensive data from multiple SVOD licensing agreements.
Benefit from nonpublic rates to uncover what streamers pay for films.
---
Apple & A24 Partner
Although Apple prefers an aggregation model, the iPhone maker is partnering with the New York-based A24, the Oscar-winning independent producer and distributor.
The multi-year deal is Apple's first major push into original production. However, there is reason to believe Apple's announcement is little more lip service and not a serious commitment to filmmaking.
---
FilmTake Away
Given Apple's leadership vacuum, the opportunity to acquire Netflix is the best opportunity to save the company from missing out on the streaming revolution. However, the bold acquisition of Netflix would almost make too much sense for Apple's management.
The company will likely keep most of its cash overseas and either use it to buyback its own stock or make smaller acquisitions in the gaming and hardware space. Apple is also exploring a partnership with Goldman Sachs as both companies take aim at the consumer banking market.
---