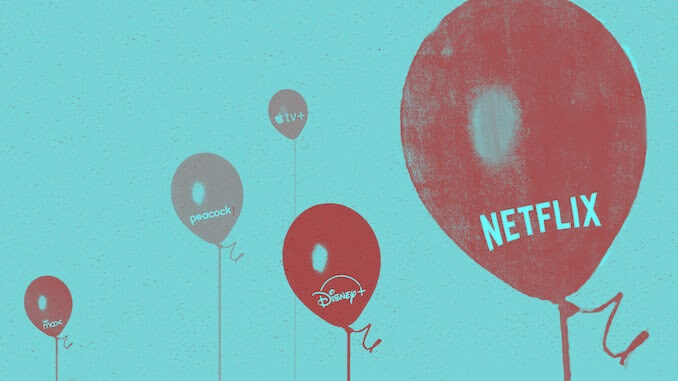 Netflix's subscribers have slowed sharply in the first half of this year compared to 2020 because of the popularity of Disney+ among families, the loss of popular licensed content, and other streaming competition from the major studios.

At the end of June 2021, Netflix's subscribers in the US and Canada dropped by 430,000. Netflix's weak growth in the first half of 2021 resulted in 5.5 million net subscriber additions worldwide, compared to 25.9 million in the first half of 2020.

Surprisingly, after posting stellar results, Disney+ announced on Tuesday that subscriber growth for the streaming service would slow in the fourth quarter because of covid-related restrictions.
---
Netflix Expands Into Family Programming to Challenge Disney's Dominance
Netflix will acquire the film rights to the complete works of Ronald Dahl, including Charlie and the Chocolate Factory, James and the Giant Peach, and The Fantastic Mr. Fox. The rights deal is rumored to be north of $750 million and expands on the pact between the two to adapt more titles together.
The announcement marks Netflix's most significant move in family programming, a move designed to counter the rapid success of Disney+. There are two Dahl-based films currently in production–Netflix is working on Matilda, and Warner Bros. is filming a Wonka prequel.
---
After Rapid Growth, Disney+ Announced Subs Will Slow
The combined streaming services of Disney's empire are hot on the heels of Netflix. The company has 173 million subscribers through July, including Disney+ with 116M, Hulu 42M, and ESPN+ 15M.
In North America, Disney+ has amassed 39 million subscribers, but its success overseas is remarkable, including 38 million subscribers in India alone, a market Netflix and others have struggled to decode.
Last year, Disney+ became available in over 30 major markets, including Latin America, Europe, and Asia. After this international expansion, Disney+ subscribers have doubled in the last year, and Hulu subscribers jumped up 60% year-over-year. However, Disney's live television option, Hulu TV, saw subscribers decline every quarter last year; it currently has 3.7 million subscribers.
Surprisingly, the company said on September 21 that subscriber growth for Disney+ will slow in the fourth quarter due to lockdown-related production delays. Walt Disney Studios has 61 films and 17 episodic series' at various stages of production.
---
Licensed Content Still Drives Netflix's Viewership
Now that NBCUniversal reclaimed The Office for its Peacock streaming service ($500M for five years) and Friends traveled back to WarnerMedia for HBO Max ($425M for five years), Netflix is about to have a new hit series, the 1989 show about nothing Seinfeld. Netflix acquired the five-year streaming rights from Sony Television two years ago for $500 million that covers all 180 episodes. Prior to Netflix, the show was streaming on Hulu for the last six years, which cost the company $130-180 million annually.
The Office and Friends were by far the most-watched content on Netflix. Although Netflix dominates the top ten shows among its streaming peers, but only two of the top ten streaming on Netflix are originals–Outer Banks and Virgin River.
As major media conglomerates continue expanding their own paid and free streaming services, fewer hit shows will be available to third parties like Netflix, resulting in fewer opportunities to license popular content to attract new subscribers.
---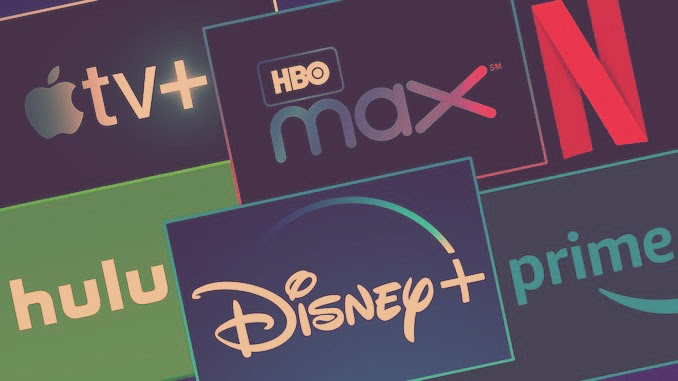 Accurately value film streaming revenue by combining comprehensive data from multiple SVOD licensing agreements.
Benefit from nonpublic rates to uncover what streamers pay for films.
---
Apple TV+ Will Double Its Content Production Output
Apple TV+ plans to double its output of new shows and films, to reach at least one release per week next year. Through the first half of 2021, Apple TV+ has about 42 million subscribers, but only half of them actually pay for the service. Most subs are still getting a free trial; some trials last a year with select Apple product purchases.
While Apple TV+ app is available on multiple devices, the company is now paying for a dedicated button on Roku remotes. These dedicated buttons are the norm for leading streaming services but out of character for a company that shelters its brand.
---
Streaming Viewership Plateaus as Per Household Paid Services Expand
The US streaming market is still growing in paid SVOD services per household, which is approaching five, up from three in 2019. Overall, half of US households have at least three subscription video services.
However, US streaming viewership has topped out recently at 28% of overall viewership, as evidenced in the chart from Nielsen below.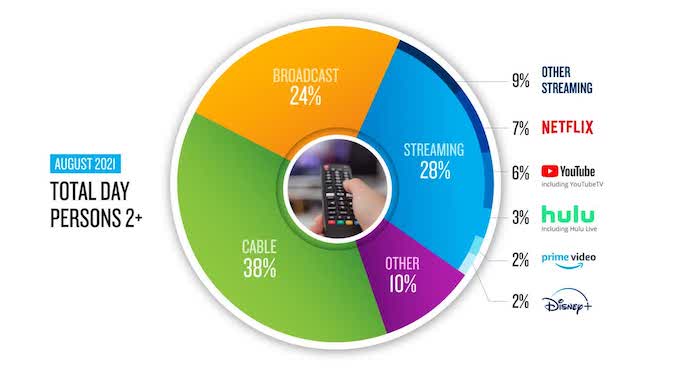 ---