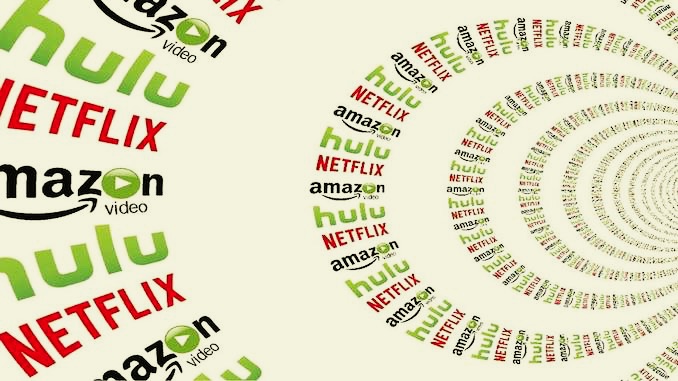 APRIL 3, 2019
More and more consumers are piecing together entertainment content from multiple services rather than relying on traditional cable television packages. This decade-long trend has rapidly accelerated, but the costs are starting to outweigh the benefits.
Below are the findings from an independent research survey of over 2,000 consumers in the United States conducted from December 2018 to February 2019.
Online Overtakes PayTV
Streaming video in terms of overall subscribers has overtaken traditional pay television subscriptions. For the first time, more respondents (69%) have at least one streaming video subscription than have a traditional PayTV subscription (65%). However, PayTV remains a key ingredient of content delivery for consumers surveyed, particularly in older demographics.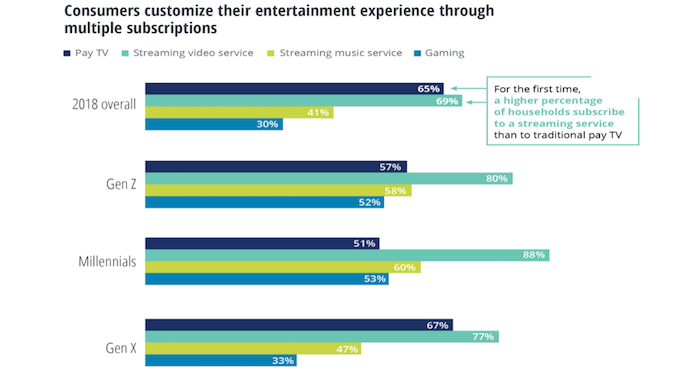 For many U.S. households the choice between streaming and traditional services is not a binary decision. Over 43% of U.S. households subscribe to at least one streaming service as well as PayTV.
Consumers now subscribe to an average of three paid streaming services. The choices are seemingly endless, with over 140 streaming services currently operating in the United States.
Consumers largely choose a streaming service for its exclusive content. Last year, 57% of paid streaming consumers picked a service for access to original content. This proportion swells to 71% for Millennials, those between 22-35 years of age.
This finding is not lost on the most powerful streaming services. Streaming services are matching the spending of Hollywood studios. For the first time last year, streaming services ordered more scripted television programs than their broadcast counterparts.
Spending by streaming services, some might say overspending, is paying off in terms of clout. Last year, Netflix walked away with 23 Emmy Awards, tying HBO, on an astounding 112 nominations.
While exclusive content is important to streamers, so is access to live television, especially for those without a PayTV subscription. Currently, 29% of consumers pay for a live TV streaming service.
Complexity Breeds Frustration
Consumers are growing frustrated by disappearing content when shows and entire libraries are pulled from streaming services. This phenomenon is only increasing as the largest media conglomerates build out stand-alone streaming services.
NBCUniversal recently announced a new ad-supported streaming service to launch in 2020. Decisions about licensing content to other providers will be made on a case-by-case basis. NBCUniversal has an ongoing licensing agreement with Netflix until 2021.
Likewise, WarnerMedia extended the availability of Friends to Netflix despite having the opportunity to pull the popular show for use on its own streaming service launching later this year. Shockingly, Netflix paid $100 million for access to Friends for one year, more than three times the amount previously paid.
New services being launched by WarnerMedia and NBCUniversal risk irrelevancy by continuing to accept licensing fees from Netflix. However, it's likely these services will remove content from Netflix and others once they are able to garner enough subscribers.
Disney is the only provider thus far pulling all its content from Netflix, including titles from Marvel, Lucasfilm, Disney Animation, Buena Vista and Pixar. Disney's content exclusion will coincide with the launch of its new streaming service Disney+.
As streaming libraries are thinned out, services risk losing their value. Consumers will either add yet another service, start canceling or do without some of their favorites. Currently, many consumers are opting for multiple services instead of going without or cancelling.
However, nearly half are frustrated by the number of subscriptions they need to piece together. Likewise, nearly half say it's harder to find desirable content when it is spread across multiple platforms.
Over 43% of consumers report giving up on searching for content if they can't find it in a few minutes. Despite having multiple options, many consumers still feel that good content is hard to find.
FilmTake Away
Consumers want the ability to customize their media experience across multiple services while simultaneously enjoying an easy way to select and search for content.
While there may never be a streaming service to rival Netflix in terms of the number of subscribers, there are plenty of opportunities for smaller services to build niche services of loyal subscribers. However, one of the biggest opportunities lies in perfecting content aggregation across multiple services to allow consumers to find the content they want with ease.