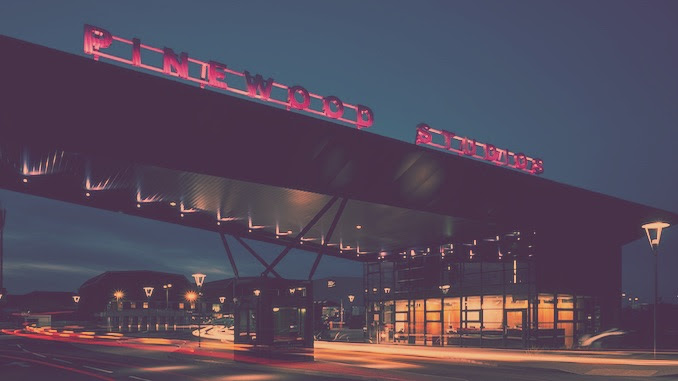 ---
Netflix expanded its global production footprint with a ten-year lease at the U.K's Shepperton Studios.
The lease grants Netflix exclusive access to a majority of the space at Shepperton's West London Studios, including 14 sound stages.
Netflix has busied itself over the last year in securing production space outside of the U.S. In addition to the U.K, the company has leased space in Amsterdam, Madrid, Paris, and Toronto.
The company continues to increase the amount its willing to spend on content creation and licensing. Over the next 12-months, Netflix is expected to spend $13 billion worldwide producing and licensing film and television content. Over half is designated for producing original material.
---
Netflix Studios U.K.
Netflix's lease includes one-third of Pinewood's Buckinghamshire 80-year old studio; home to the 59,000 square-foot James Bond 007 stage. The lease includes over 165,000 square-feet of studio space, workshops and offices, at a cost of at least £7 million per year.
Netflix has been on the hunt for studio space in the U.K. since at least 2017. Netflix was initially interested in buying U.K. studio space, but given the company's extreme debt-load, they seem satisfied to lease space for now. The company wants to produce more content in the U.K., but demand for production space far outstrips supply.
Netflix's hunt was intensified when Disney decided to pull its content from Netflix. Disney has been very active at Shepperton with Marvel, Star Wars, and Pixar films. Disney signed a lengthy lease deal in 2017, which extends through 2029.
In the last year, Netflix produced more than 40 film and television projects in the U.K.; employing over 25,000 cast, crew and extras. Netflix has already started ramping up operations in the U.K. with staff and an office in London.
---
Shepperton Swells
Netflix became more vocal in its frustration about competing over high-demand production facilities.
Netflix was a vocal advocate, along with several other companies, backing Pinewood's efforts to expand Shepperton Studios, the U.K's largest studio complex. Netflix was said to be active behind the scenes securing a consensus from decision-makers for Shepperton's expansion.
Their efforts were not in vain, just a few months ago, Pinewood finally gained permission for a planned £500m development at Shepperton. The expansion will add 16 sound stages by 2021, which will make Shepperton the second largest in the world. In 2001, Pinewood paid £35 million for Shepperton.
Although Pinewood denies it, many producers in and outside the U.K will likely be pushed out of Shepperton, even with the expansion. The studio will try to offset the 165,000 square-feet being taken by Netflix by adding six new sound stages totaling 130,000 square-feet by October. However, for the next ten years, Shepperton will be the nearly exclusive playground for rivals Disney and Netflix.
---
European Foothold
Netflix is slated to produce or co-produce 225 television shows and films in Europe this year, at a cost exceeding $1.7 billion. This massive production output is a 57% increase from 2018.
Brexit concerns aside, Netflix and Amazon see the U.K. as a foothold for their European expansion. Both companies combined spent an estimated £155 million in the U.K. in 2018.
---
Netflix Studios U.S.A.
Netflix finally earned film studio status after buying ABQ Studios in Albuquerque, New Mexico at an absolute steal. The initial purchase price, which closed in October, was less than $30 million. However, after receiving generous taxpayer funds, Netflix will only spend around $15 million out-of-pocket.
Netflix will receive a total of $14.5 million in government funds for the purchase, which includes $10 million from the state of New Mexico and $4.5 million from the city of Albuquerque.
ABQ Studios was built in 2007 for $91 million following the state's production boom that developed after the launch of New Mexico's incentive program. The latest assessed value of the property was only $22.7 million, according to the Bernalillo County Assessor's office.
The complex entered Chapter 11 bankruptcy in 2010 after the housing crisis turned the area into a ghost town. New York-based Amalgamated Bank then acquired the studio in 2011.
The site includes eight sound stages totaling 132,000 square feet of space, plus 100,000 square feet of production offices and a large backlot.
Netflix has a lease on the Sunset Bronson soundstage facility next to its Los Angeles headquarters, but ABQ is its first wholly owned production space.
---
FilmTake Away
Having been shut out of China, Netflix is more adamant than ever to expand operations in Europe. As the U.S. market nears saturation, European markets present the next best opportunity for expansion.
Many European markets have proved resistant to Netflix's original U.S. content. Netflix will need to produce higher quality local programming in order to please refined European tastes. The company's current shotgun approach to content creation is not sustainable, and isn't effective in Europe.
---