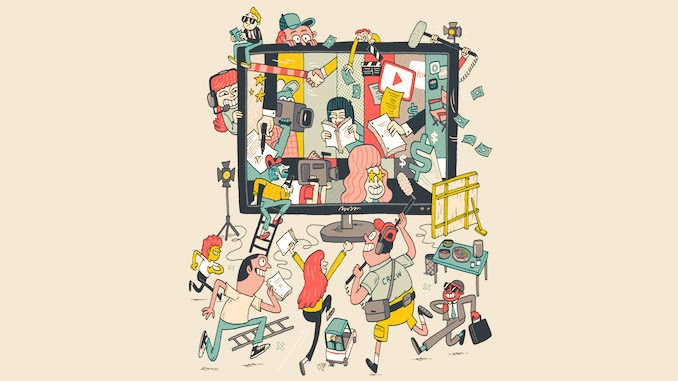 To woo subscribers away from Netflix, Disney, WarnerMedia, and Apple are spending big bucks to produce original series content.
These streaming newcomers are expected to spend between $8 million upwards to $20 million per episode.
After marketing and other expenses, these services are earmarking around $150 million per season for a new show.
---
World Building
As reported by FilmTake in January 2018, Amazon has set aside over a billion dollars to bring a five-season Lord of the Rings series to Amazon Prime. Amazon paid $280 million just for global licensing rights. Production costs are projected to exceed $800 million for five seasons with two optional spinoffs.
There are other epics planning to cash-in on the void left after the conclusion of Game of Thrones include WarnerMedia's Dune series, Showtime's Halo, and Apple's fantasy series See.
Disney+ is also producing a Star Wars series, Mandalorian, which is costing $15 million per episode.
Anticipating growing competition from the studios, Netflix is desperate for an international hit. The global streaming leader is making a series based on Neil Gaiman's The Sandman, which is a DC Comics property owned by WarnerMedia. However, after the lukewarm reception of Gaiman's Good Omens on Amazon Prime, this new series will not be the game-changer Netflix needs.
---
Spendthrift
Big spending is nothing new for Netflix. Fueled by investor exuberance and junk bonds, Netflix is planning to spend $13 billion in the next 12-months; at least half of which will be for original content.
Netflix struck success right out of the gate when it released House of Cards in 2013, which was one of the service's first original productions. At the time, the $120 million production budget for two 13-episode seasons seemed like a gamble, but by today's standards it's almost modest.
After a string of misfires, Netflix quieted doubters with the critically acclaimed The Crown. The series is not just Netflix's most expensive show, but also the most expensive series ever made at a cost of $140 million for the first season.
However, Netflix's big expenditures haven't always translated to hits. Sandwiched in between House of Cards and The Crown are several high-priced disasters.
Macro Polo, which only lasted two seasons, cost $90 million for the first ten-episode season. Netflix took a $200 million loss on the show that went largely unnoticed by audiences.
Likewise, The Get Down, which Netflix produced with Sony Television, ended after the first season. Without elaborate period sets or exotic locations, the series was shockingly budgeted at $90 million. Writers working on the show called the production The Shut Down. Due to the months of infighting, the first season ended up going way over budget, costing at least $120 million.
Another monstrous let down for Netflix was Sense8 from the Wachowskis, which was axed by Netflix without an ending. Eventually, Netflix released a 2-hour show trying to tie up loose ends after a petition from fans. The show, which was shot in 13 countries, cost around $110 million.
---
Disney Walks
Disney was the first major studio that decided to pull its content from Netflix, including titles from Marvel, Lucasfilm, Disney Animation, Buena Vista and Pixar.
This decision impacts several Marvel properties produced by Netflix including, Daredevil, Jessica Jones, Luke Cage, and Iron Fist. Dubbed the Marvel Defenders project, Netflix paid Marvel $200 million to produce 60 episodes over three years. After the completion of the episodes, there was to be a miniseries titled The Defenders.
However, Iron Fist, Luke Cage, and Daredevil were all canceled in 2018. Netflix reported that Daredevil was one of the most popular shows on the site, but given Netflix's reputation for transparency, this claim is dubious. Perhaps Daredevil was cancelled because Netflix realized Disney was planning to pull its content for its new streaming service.
---
HBO's Playbook
In 2016, Netflix's Chief Content Officer said, "Our goal is to become HBO faster than HBO can become us."
Following HBO's playbook, Netflix continues to shell out incredible sums for comedy specials. The company paid $40 million for two one-hour stand-up comedy specials from Chris Rock.
Similar to the Chris Rock specials, Netflix paid $60 million for rights to three stand-up specials from Dave Chappelle following the comedian's return after a 12-year hiatus.
Netflix successfully followed HBO's lead when it produced the high-end drama House of Cards. However, soon afterwards, Netflix implemented a shotgun approach to content production, which has resulted in a noticeable drop-off in quality and an expanding universe of unknown shows.
In 2017, Richard Plepler, then-head of HBO said, "More is not better. Only better is better."
Obviously, this sentiment did not sit well with AT&T, HBO's new owner. Shortly after AT&T's acquisition of Time Warner, Plepler was fired.
It's likely the American Telephone and Telegraph Company will tinker with winning formula that made HBO the worldwide leader in premium content by lowing standards to produce more and more content. When AT&T purchased WarnerMedia in June 14, 2018, they became the world's largest media and entertainment company in terms of revenue.
---
FilmTake Away
Fantasy shows like Game of Thrones have the ability to transcend international borders unlike dramas. However, they are the hardest genre to make believable, especially without rich source material.
Netflix, HBO, Amazon, Apple and Disney+ are all looking for the next mega fantasy franchise, but the chase will be an expensive one. This is great news for filmmakers and producers responsible for finding, creating, and making the next big show.
---