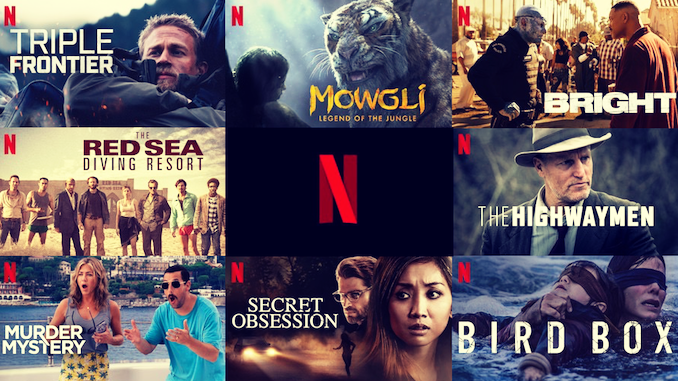 Netflix hopes to attract new subscribers with a slate of big budget films.
Facing an upcoming exodus of studio films and series content from its service, Netflix is eager to capture new subscribers with original films.
After years of primarily focusing on producing original or rebooted episodic content, that has largely failed to match the viewership trends of licensed content, Netflix is doubling back to fund big budget films.
---
Spendthrift Slate
Netflix is on track to spend over $550 million to make just three big budget films. Earlier this month, the company agreed to produce the Dwayne Johnson action film, Red Notice at a cost of $200 million.
The film, about an art-thief-tracking Interpol agent, is shooting next year in several renowned locations in Europe and beyond. It will be available on Netflix in 2021.
Later this year, Netflix is planning to release another action film, 6 Underground, from director Michael Bay that reportedly cost $150 million to make.
However, the most anticipated film is Martin Scorsese's The Irishman. The initial budget for the film was set at $110 million, but after ballooning costs and an expanding visual effects budget to show the stars (De Niro, Pacino, Pesci) at different ages, the budget is now over $200 million.
---
Studio Leftovers
For years, Netflix has been picking through the leftovers at the major studios in hopes of striking gold. Netflix was able to acquire the rights to The Irishman after several studios backed away from the project.
According to reports, the studios assumed an R-rated gangster film with its budget would be an economic disaster after marketing expenses. Netflix has been insulated from budgetary considerations, which has increased the value of content for all providers.
Similar examples of Netflix picking up discarded projects include the post-apocalyptic Bird Box, which according to Netflix's opaque reporting garnered 80 million viewers in the first month, making it the company's most popular original film. Another example was Triple Frontier starring Ben Affleck, which according to Netflix has been watched 63 million times since March.
The Dwayne Johnson film Red Notice, was also a studio reject. Universal Pictures was slated to make the film for $150 million, but after the projected production costs rose, the studio cut the project loose.
---
Film With No Name
A year ago, Netflix announced its intention to release 80 films on its platform in 2018 – one film every five days and nearly as many as all the major U.S. studios combined.
At the time, the company's content officer said the slate would include a mix of $1 million acquisitions up to big budget fare like the 2017 Bright starring Will Smith that cost $113 million. That being said, Netflix didn't release a big-budget film comparable to Bright in 2018.
According to research conducted by FilmTake, Netflix released 69 features and 18 documentaries in 2018. However, only a few had the necessary elements that would have supported a traditional theatrical release, namely, Roma, Bird Box, and The Cloverfield Paradox.
Most of Netflix's 2018 film slate would be considered made-for-television or direct-to-video.
However, nearly none of Netflix's prized films are serious challengers to those released by independent distributors or the studios. Furthermore, since Netflix does such an awful job curating films on its website, it's unlikely most subscribers are even aware of these original films.
Continuing on a theme, Paramount sold The Cloverfield Paradox to Netflix for $50 million after the studio decided against a theatrical release.
---
FilmTake Away
The legacy studios spend substantial time and capital developing film projects. In contrast, Netflix is utilizing a shotgun approach by picking through unwanted studio packages or passion projects that have been rebuffed elsewhere.
Traditional distributors spend millions on advertising and promotion for weeks or months before a release. However, Netflix with a click of a button can release a new film to its 150 million subscribers with little or no promotion. This strategy has obvious cost benefits, but without a meaningful or interesting marketing campaign, new films often go completely unnoticed by the general public.
---
---