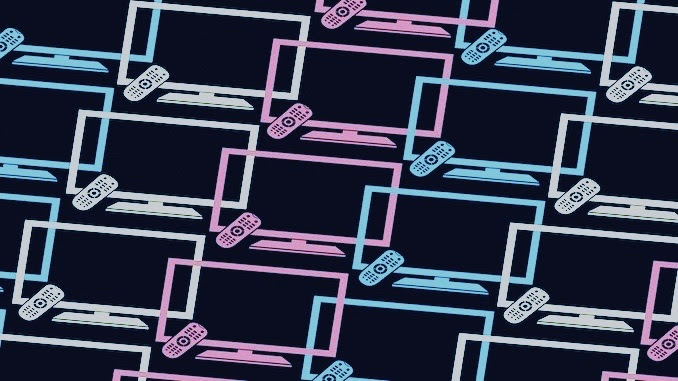 Europeans have typically spent less time in front of the TV than their North American counterparts have. That's changing thanks to the popularity of over-the-top (OTT).
Last year Europeans watched two hours more of on-demand content per month compared to the previous year and nonlinear video viewership grew by 21% year-over-year.
With so many Europeans watching so much TV online, many international media companies and several European broadcasters are starting to pour resources into establishing OTT services.
---
Keys To OTT Success
European broadcasters and content providers are implementing three strategies in the online content delivery market to stave off competition from Disney, Amazon and Netflix.
First, to help capture more viewers, many European broadcasters and distributors are collaborating to launch joint OTT services.
Netflix is less dominant in Europe than in the United States. This gap provides an enormous opportunity for content providers to establish homegrown OTT services without signing over their content to an outside service like Netflix or Amazon.
In France, there is Salto, a joint venture of three different French broadcasting services. In Spain, Loves TV is a collaboration between several content providers.
Second, European broadcasters are starting to invest in robust backend technologies to allow the expansion of OTT at its current pace. These improvements will need to build workflows that efficiently delivers content to cooperatives like Salto and to their own platforms.
Third, the love of football in Europe is an opportunity for broadcasters to move more matches online. Revenue for major football clubs in Europe increased 9% in 2018 mostly due to higher TV earnings.
Recently, some OTT platforms are getting in on the game. Eleven Sports owns exclusive rights for the top leagues in Spain and Italy. Amazon is testing the waters by licensing a small rights package for the English Premier League. Similar to the U.S., more sports viewing in Europe will shift online, especially after the rollout of 5G mobile access.
During the build out, these OTT services should experiment with diverse advertising and pricing strategies to make online viewing more accessible to audiences throughout Europe.
---
Digital TV Survey
Following are highlights from the fourth annual Digital TV Europe's Survey.
Respondents to the survey included 560 industry executives from 64 countries. These executives include PayTV and OTT TV providers, broadcasters, content aggregators, and technology providers.
---
PayTV vs. OTT
Survey respondents overwhelmingly believe that traditional PayTV is declining and will continue to decline, with the partial exception of services that are bundled with broadband and mobile services.
The shift away from PayTV to OTT is driven by many factors, including a change in viewing habits from live to time-shifted and on-demand, and from the living room to multiple screens of different sizes.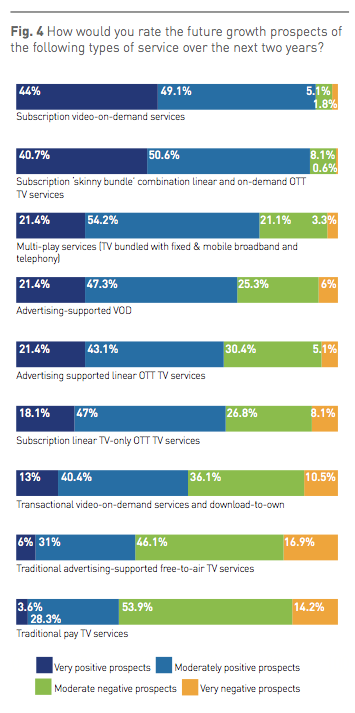 However, the greatest appeal of OTT services is the perception that they provide greater value than traditional PayTV packages.
A large number of respondents believe that consolidation among big media companies such as Disney and Fox will enable them to compete with web- based technology giants, which they view as strongly positive.
Subscription skinny bundle offerings combining linear and on-demand OTT TV services are also highly rated, with over nine in 10 viewing these as having either very positive or strongly positive prospects.
Unsurprisingly, SVOD services are viewed as having the strongest prospects in the new digital landscape, followed by skinny bundles combining linear and VOD channels.
Finally, the survey asked respondents to choose the company they believe has made the biggest impact on the business of digital video distribution over the past year.
Out of seven companies listed, Netflix secured top slot by a massive margin, with 61% voting it as having the biggest impact. Netflix's chief rival Amazon came second, with 22% of votes, followed by Google with 9%.
Can live streaming replace broadcast TV? The general view of survey respondents is that it can, but it is not likely in the very near future.
Respondents remain to be entirely convinced that OTT live streaming can supplant broadcast, at least in the near term. While a majority believes that OTT for live streaming is improving and could ultimately supplant broadcast when the technology is more mature, only 22% think that OTT is highly suitable for live streaming today and will soon supplant broadcast.
Respondents believe live streaming is a substitute for traditional TV rather than a complement to it.
---
FilmTake Away
No European service has yet risen to the top in the way Netflix has in the United States.
There are enormous opportunities for broadcasters, especially in the sports market, to prevent an outside technology company like Netflix or Amazon swooping in and running off with the market.
Through combining and leveraging their libraries, European distributors can cooperate to offer services more attuned to local sensibilities.
---