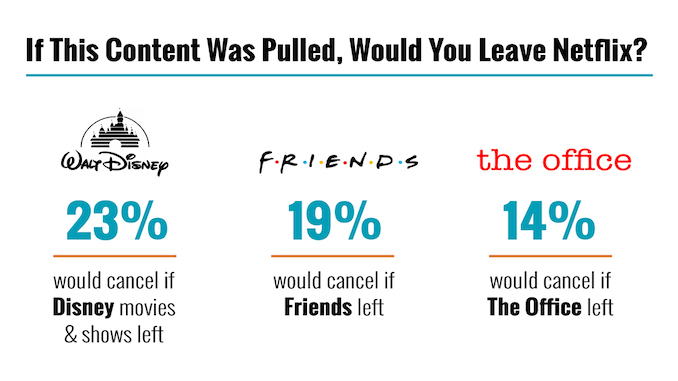 The popular sitcom Friends will no longer be available on Netflix where the show has streamed exclusively for much of the company's meteoric rise.
The popular series will return home to WarnerMedia where it will stream on the company's newly named HBO Max streaming service. Friends was the second most watched show on Netflix.
A February 2019 survey, which collected responses from 1,500 U.S. consumers, revealed what it would take for people to end their Netflix subscriptions. Pricing was the top concern, 55% of respondents said $11.99 would be the top price they would pay for the service, while 23% said they would cancel Netflix if Disney leaves the service.
---
HBO Max Kicks Back
Last week, WarnerMedia christened its forthcoming streaming service HBO Max. Critics bemoaned about the apparent confusion the name will generate given that there already exists an HBO Go and HBO Now. The name might not be inspired, but the new owners realize HBO is better known throughout the world than Warner Bros. or WarnerMedia.
Starting in 2020, HBO Max has agreed to pay a staggering $425 million for streaming rights to all 236 episodes of Friends for five years. Netflix recently paid over $100 million to WarnerMedia to retain the exclusive streaming rights for an additional year.
In addition to Warner's sizable film and television library, the company will start producing original content for the new streaming service.
When it launches, HBO Max will be largely supported by the content already available on HBO Now, which has over eight million subscribers. HBO Max will have a soft launch at the end of 2019 with plans to offer around 10,000 hours of programming before expanding globally.
Although WarnerMedia is taking back tons of content from Netflix, the company continues to make shows for the streamer. Two weeks ago, Netflix signed a deal with Warner Bros. for Neil Gaiman's The Sandman series, which is based on the DC Comics property.
---
Most Watched Show
To add insult to injury, Netflix also discovered that NBCUniversal would pull The Office for its upcoming streaming service. The Office is by far the most popular series on Netflix.
Unlike Friends, which will be withdrawn at the end of the year, The Office will still be available on Netflix throughout 2020. Starting in 2021, NBCUniversal will pay $500 million to stream The Office for five years.
Netflix will soon be losing film and television content from Disney, which includes Fox, WarnerMedia and NBCUniversal. That only leaves major studio content from Paramount/Viacom and its longtime licensee Sony Pictures.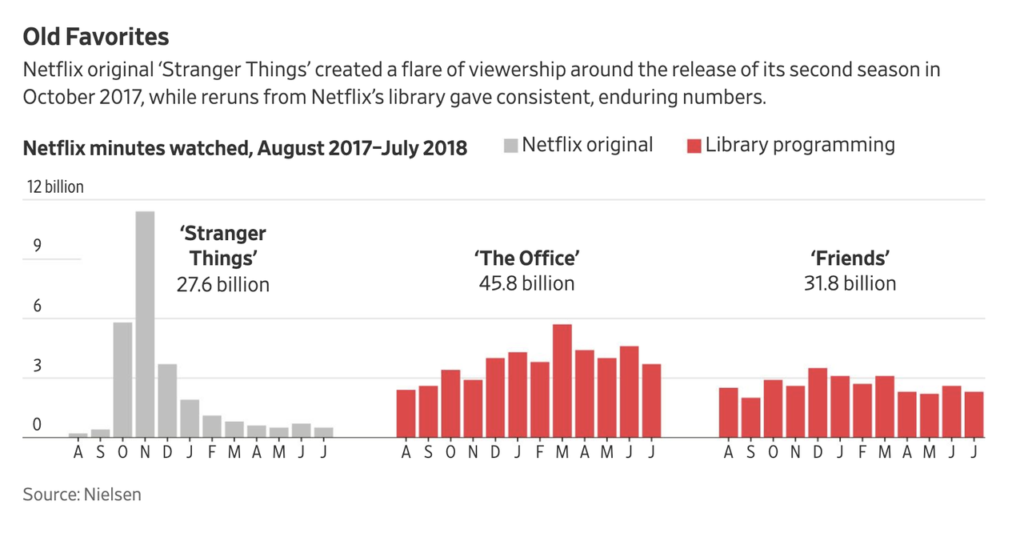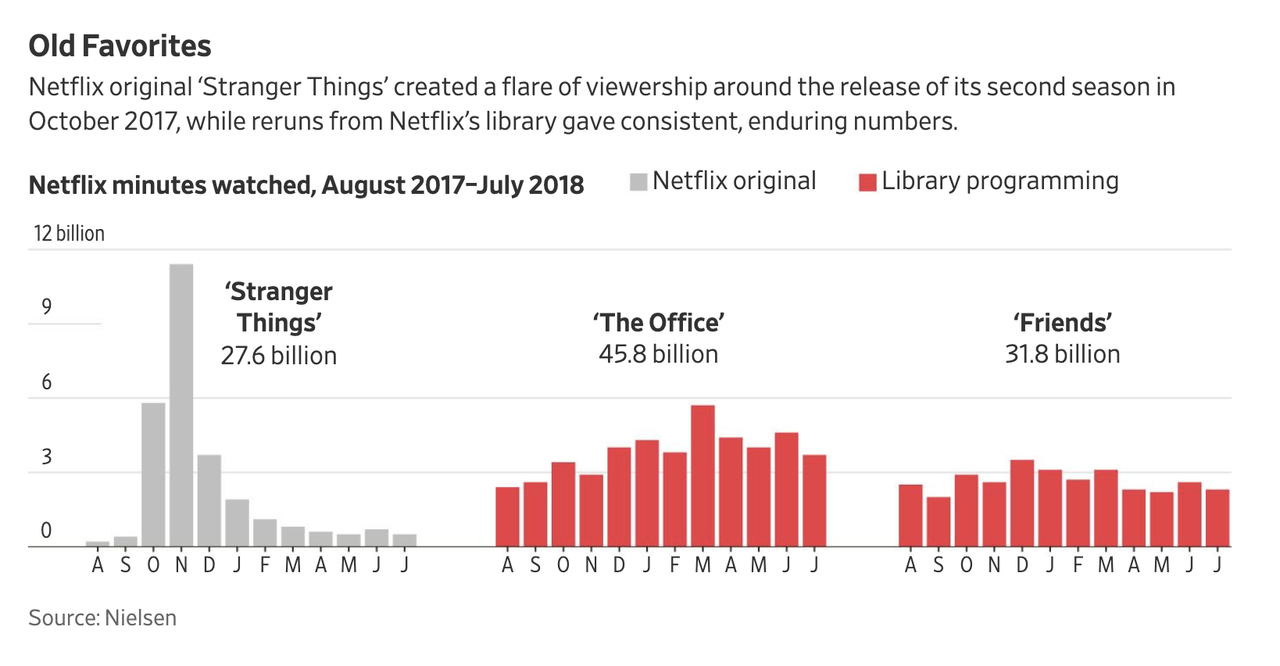 ---
Market Values
Although, The Office and Friends are coming home to the networks that original produced them, this doesn't mean these company's are getting a bargain.
Market values must be paid for these shows in order to fairly compensate the profit participants. If the studios decided to pay less than the market value, the profit participants could seek legal recourse.
After years of paying outsized rates demanded by the studios, Netflix has inadvertently forced the studios to pay more for their own content.
Quality Concerns
While Netflix claims that original programming propels new subscribers, it certainly doesn't translate to viewership. Of the content available on the platform, 72% of all viewership is for films and shows produced by companies other than Netflix.
For every hit show Netflix produces like House of Cards, Orange is the New Black, and Stranger Things, they produce 30 shows that are unknown and largely unwatched. This success ratio is not so different from studio programming, but since the delivery method is still mostly linear on television, many more people watch these non-hits than on Netflix.
---
Content Exclusivity
The next major battleground in the streaming war will take place over exclusivity, which will not only impact Netflix, but all studios too.
For instance, WarnerMedia's HBO relies heavily on films from Comcast's Universal Studios and Disney's Fox, which will likely change as current licensing agreement expire.
The future of licensing will only get more complicated as the major studios launch stand-alone streaming services. This complexity will provide independent producers more opportunities and leverage when licensing content to multiple platforms.
---
FilmTake Away
The greatest innovation that Netflix is capable of producing is already in the company's past. And since Netflix doesn't have a competitive advantage in content creation; it's left spending greater and greater sums to acquire and produce content.
With most major studios pulling content from Netflix over the next two years, the streaming paradigm is set to shift. Although, it's quite possible that Netflix's 140 million subscriber head start proves impossible to compete against. The studios could be forced to license content back to Netflix, if the company still wants or needs it.
---