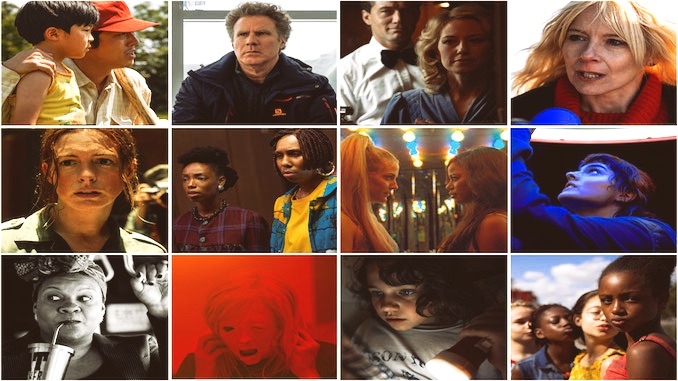 Deal activity is muted so far at this year's festival despite claims that producers and sales agents were withholding their best films at TIFF in September to introduce at Sundance.
Less than 90 feature films are at Sundance seeking distribution. That's down 25% from the 120 that came to the festival without a distributor in 2019. Of the films screening, 27 of them already have domestic distribution secured, up from 22 last year.
The first Sundance deal likely to close will be The Night House, a thriller by The Ritual director David Bruckner, which stars Rebecca Hall and screened Saturday night in the Midnight section. There are said to be four offers from theatrical buyers and another three from streamers.
---
Streamers To The Rescue?
Last year at Sundance, buyers spent over $120 million acquiring rights to 40 films, led by Amazon and Netflix. Amazon renewed its appetite for acquiring festival titles by spending $46M on five films.
Sales agents and producers are hoping new and established streamers will step up this year as most traditional distributions take a back seat well aware that few commercial films are available. Even if must-have titles emerge, the streaming services can easily outbid distributors who are bound to financial realities, unlike their streaming counterparts.
All the primary streaming services are at Sundance this year, including Netflix, Amazon, Apple, Hulu, Disney+, and HBO Max. Since these conglomerates don't need to worry about making a profit in the same way as traditional distributors do, they are the only hope for this year's weak festival slate and other projects on offer by sales agents and producers.
Netflix dabbled in the mid-budget independent acquisitions market a few years ago, before focusing on its original production slate. Instead of looking for titles to acquire, Netflix is premiering ten finished films and documentaries at Sundance this year.
Netflix is very aggressive in the agenda-driven documentary space. Documentaries coming out of Sundance have performed extremely well at the box office. The Mister Rogers documentary Won't You Be My Neighbor? grossed over $22 million for Focus Features; RBG, the documentary about Supreme Court Justice Ruth Bader Ginsburg, grossed $14 million for Magnolia Pictures; and Three Identical Strangers, acquired by NEON and CNN, grossed $12 million.
---
Buying and Selling
FilmNation is bringing its most extensive film slate to Sundance this year. The lineup includes Benedict Cumberbatch Cold War drama Ironbark, Sean Durkin's The Nest starring Jude Law, and Carey Mulligan-thriller Promising Young Woman from Killing Eve showrunner, Emerald Fennell. Also, screening is the Gloria Steinem biopic The Glorias starring Julianne Moore, which is a sales title.
FilmNation has been behind some of the biggest distribution deals at Sundance, including last year's $15 million sale of Late Night to Amazon, and The Big Sick for $12.5 million in 2017. Likewise, UTA's independent film group is bringing 16 films to Sundance for sale, which is the most ever for UTA.
WarnerMedia's HBO Max is expected to be an active buyer this year as it prepares to launch its new streaming service in May. AT&T seems prepared to trash the reputation HBO has held for decades as the home for only the best projects in favor of a broader approach, much like Netflix.
Apple TV+ is desperate to add titles to its weak streaming slate. However, after the company and Oprah Winfrey pulled support from On The Record, a documentary about alleged sexual misconduct by famed music producer Russell Simmons, and close friend of Oprah, the company is facing backlash.
Most Talked About
Below is a list of ten narrative films that most distributors are talking about through the first weekend at Sundance.
FOUR GOOD DAYS – Director: Rodrigo Garcia. Cast: Glenn Close, Mila Kunis, Stephen Root, Joshua Leonard. Ten years of opioids have left Molly's life in shambles. A new drug may give her a chance to break free if she is able to stay clean for four days, with the help of her tough mother Deb.
IRONBARK – Director: Dominic Cooke. Cast: Benedict Cumberbatch, Merab Ninidze, Rachel Brosnahan, Jessie Buckley. A true story of a British businessman unwittingly recruited into one of the greatest international conflicts in history. Forming an unlikely partnership with a Soviet officer hoping to prevent a nuclear confrontation, the two men work together to provide the crucial intelligence to defuse the Cuban Missile Crisis.
THE NEST – Director: Sean Durkin. Cast: Jude Law, Carrie Coon, Charlie Shotwell.. Charismatic entrepreneur Rory relocates his family to England with dreams of profiting from booming 1980s London. But as his wife, Allison, struggles to adapt, and the promise of a lucrative new beginning starts to unravel.
SHIRLEY – Director: Josephine Decker. Cast: Elisabeth Moss, Michael Stuhlbarg, Odessa Young, Logan Lerman. A young couple moves in with famed author Shirley Jackson and her Bennington College professor husband Stanley Hyman in the hope of starting a new life, but instead, find themselves fodder for a psycho-drama.
PALM SPRINGS – Director: Max Barbakow. Cast: Andy Samberg, Cristin Milioti, J.K. Simmons, Meredith Hagner, Camila Mendes, Peter Gallagher. When carefree Nyles and reluctant maid of honor Sarah have a chance encounter at a Palm Springs wedding, things get complicated the next morning when they find themselves unable to escape the venue, themselves, or each other.
WORTH – Director: Sara Colangelo. Cast: Michael Keaton, Stanley Tucci, Amy Ryan, Tate Donovan, Talia Balsam. DC lawyer Kenneth Feinberg is appointed Special Master of the 9/11 Fund, fights off the cynicism, bureaucracy, and politics associated with administering government funds and discovers what life is worth.
FALLING – Director: Viggo Mortensen. Cast: Lance Henriksen, Viggo Mortensen, Terry Chen, Sverrir Gudnason, Laura Linney. When 80-year-old independent farmer Willis travels to Los Angeles for an indefinite stay with son John and his family, two very different worlds collide. Mentally declining, Willis' abrasiveness is both caustic and funny, bringing old wounds from the past and years of mistrust to the surface.
THE LAST SHIFT – Director: Andrew Cohn. Cast: Richard Jenkins, Shane Paul McGhie, Da'Vine Joy Randolph, Birgundi Baker, Ed O'Neill. Aging fast-food worker Stanley prepares to work his final graveyard shift after 38 years. When he's asked to train his replacement, Jevon, Stanley's weekend takes an unexpected turn.
TESLA – Director: Michael Almereyda. Cast: Ethan Hawke, Kyle Maclachlan, Eve Hewson, Jim Gaffigan, Hannah Gross, Josh Hamilton. Highlighting the Promethean struggles of Nikola Tesla, as he attempts to transcend entrenched technology–including his own previous work–by pioneering a system of wireless energy.
UNCLE FRANK – Director: Alan Ball. Cast: Paul Bettany, Sophia Lillis, Peter Macdissi, Steve Zahn, Judy Greer, Margo Martindale. In 1973, when 18-year-old Beth and her uncle Frank take a road trip from Manhattan to Creekville, South Carolina, for the family patriarch's funeral, they're unexpectedly joined by Frank's lover, Walid. A story about family, forgiveness, and our inherent power to choose who we want to be.
---
FilmTake Away
The quality of independent films has dropped significantly over the last few years under the all-consuming social imperative that has absorbed filmed entertainment. The current lack of appeal of independent films to wider audiences is growing despite plenty of marketing and journalistic efforts.
Unconcerned with economic realities, Amazon and Netflix will continue touting opaque viewership metrics to justify its outsized acquisitions. Unfortunately, Sundance is no longer a launching ground for films that can break into the mainstream, which is harming traditional theatrical buyers.
---