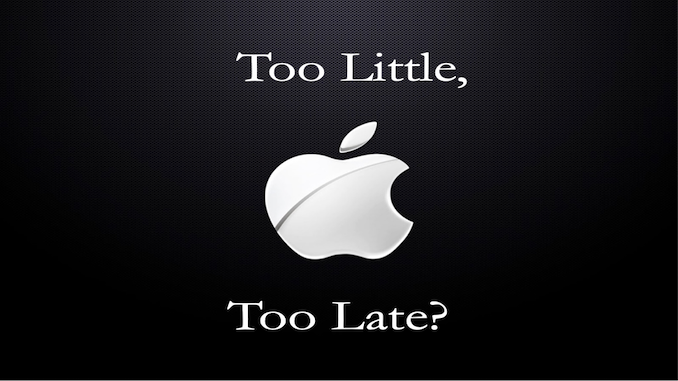 MARCH 20, 2019
Apple is announcing its new streaming service on March 25th, but the company is still scrambling to sign deals with content providers.
The tech giant is desperate to close deals with HBO, Showtime and Starz in order to boost its paper-thin original production slate.
Apple was expected to reach an agreement with these popular premium cable television networks last week, but none have closed as of March 19th. Given Apple's limited number of original shows, the company is eager to sign licensing agreements with content providers posthaste.
Supposedly, these companies are holding out for greater control of marketing, promotion, and access to user experience and viewership data. Apple is notorious for being opaque in its operations, which could jeopardize one or all of these deals.
Even though Netflix announced weeks ago that its original content would not be available on Apple's new service, there might have been some behind-the-scenes talk to make this a reality. However, Netflix's CEO reconfirmed on Monday that the company will not provide content to Apple. In addition to Netflix, Hulu is not providing content either.
Netflix also recently ended the capability to subscribe via Apple's App Store, which severed Apple's ability to collect a sizable share of the revenue.
A Service Nobody Wants
Apple's new service is expected to be integrated into the iPhone, iPad and its set-top TV app. There will be two tiers to the service – original shows and licensed content. Although as previously mentioned, Apple hasn't signed any meaningful output agreements yet.
Apple likely waited too long in launching a streaming service. The company twice postponed the launch of its first slate of shows, largely due to quality concerns.
Quality concerns aside, there is too much saturation among U.S. media subscribers who already pay for Netflix, Amazon Prime, HBO Now, Hulu, and perhaps even cable television.
Based on comments from several Apple forums and articles, loyal fans seem completely uninterested in the new service. This lack of enthusiasm is not only related to adding yet another service, but the lackluster slate of shows announced so far (see below).
The potential over-saturation in the market not only signals trouble for Apple, but could likely affect WarnerMedia's new service, and to a lesser extent Disney+.
---
Uncover film licensing values across multiple platforms and in several markets with the Film Producer Series.
The Film Producer Series bundles four content value reports to create a mosaic of financial insights about specific film revenue lifecycles.
---
AT&T's First Misstep
Apple is in discussions with HBO, a division of AT&T-owned WarnerMedia, to license its content for Apple's new service. These negotiations negate WarnerMedia's own mission to use HBO's content as a centerpiece for its forthcoming streaming service expected to launch later this year.
Perhaps the new corporate masters at AT&T are more concerned with creating multiple revenue streams rather than maintaining HBO's exclusivity for their new streaming service.
WarnerMedia is a complete mess at the moment. Most of the company is based in New York, AT&T is operated from Texas, and Warner Bros. is in Los Angeles. In addition to the logistical problems, Warner Bros. just fired its studio head for sexual improprieties. AT&T already forced out two top executives, Richard Plepler, chairman and CEO of HBO and David Levy, president of Turner, which includes CNN, TNT, TBS and Cartoon Network.
Apple's Hubris
Several producers and executives involved with original projects for Apple are viewing the company's lack of communication as a sign that there is not a clear strategy.
Hollywood operates on giving the talent the illusion of control over almost every aspect of a project. Many of these parties feel ignored about crucial aspects of a project's release and marketing, which is fomenting resentment.
One criticism that is continually leveled at Apple is not allowing the creators to control the tone of their project. Apple wants to maintain a PG-13 image, but projects from Steven Spielberg, J.J. Abrams, and M. Knight Shyamalan were said to be too dark and have been altered.
Sneak Peak
Apple has ordered around two-dozen shows, including projects from Oprah Winfrey, Damien Chazelle, Chris Evans, J.J. Abrams, Steven Spielberg, M. Knight Shyamalan, and others. Below is a partial list of projects that have either completed filming or are nearing completion.
Amazing Stories: This Steven Spielberg reboot is based on an NBC series from 1985 with the same name. This show is expected to wrap soon.
Are You Sleeping?: This mystery-drama stars Octavia Spencer and is based on a crime novel.
Central Park: This animated musical series is from the creator of Bob's Burgers. The project will be finished in the next few months.
Dickinson: This Emily Dickinson comedy has wrapped shooting.
For All Mankind: This Sci-fi drama from the producer of Battlestar Galactica is complete. It presents an alternate history of the global space race.
Home: An unscripted series about lavish homes owned by non-celebrities.
Little America: An anthology about immigrants coming to the United States.
See: A fantasy epic with Aquaman star Jason Momoa.
M. Knight Shyamalan Thriller: The story is a secret. Filming has ended.
Comedy Series from the It's Always Sunny in Philadelphia Duo
Series with Reese Witherspoon and Jennifer Aniston: Apple's cornerstone project is a behind-the-scenes series about a morning TV show.