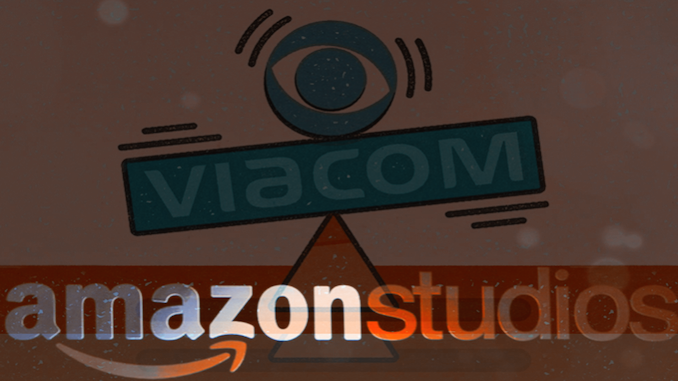 There is growing speculation that Amazon will acquire ViacomCBS after the post-merger dust settles.
Amazon has recently renewed efforts to expand its video content capabilities. In the past six months, Amazon spent more than Netflix on promoting its streaming services.
National Amusements, ViacomCBS's parent, has agreed to consider in good faith any offers for the combined company that would be in the shareholder's best interests.
---
Considering ViacomCBS
ViacomCBS is now the second largest producer of content, second only to Netflix. The newly formed company has committed $13 billion to content production over the next year.
There are nearly 750 shows that have been greenlighted or are in production. Some of the shows are headed directly to its streaming service, CBS All Access.
The merger combines the CBS television network, CBS News, Showtime cable networks with MTV Networks, Nickelodeon, Comedy Central and Paramount Pictures. This latest deal is the companies' third union since the 1970's.
ViacomCBS now controls one of media's largest content libraries, with more than 140,000 television episodes and 3,600 film titles.
In lieu of the merger, the two media companies will continue to operate as separate companies despite public relations talking points to the contrary according to inside sources.
Beyond political and operational issues that Amazon would need to overcome, ViacomCBS is embarking on two strategies that could exacerbate the company's declines.
---
Doubling Down
Although shrinking, ViacomCBS's broadcast and television networks will have the largest share of television viewing among the key demographic.
The company's networks account for 22% of television viewership, but only receive 11% of the affiliate fees paid by television distributors. This ratio will improve once the combined company renegotiates carriage rates with more leverage.
However, by combining two legacy companies that make over 60% of their profit from traditional media, the deal doubles down on a business model that has been in decline for a decade.
Making matters worse is the free-fall in cable and satellite subscriptions expected following the introduction of several new streaming services from Apple, Comcast, Disney, and WarnerMedia – in addition to continued growth from Amazon, Hulu, Netflix, and even CBS All Access.
---
Streaming Catch-22
The recent merger will expand the film and episodic content that will be available on the company's streaming services including CBS All Access, Showtime, and PlutoTV.
Under the corporate umbrella there are about a half-dozen existing subscription and ad-supported services, some of which have been around for years. They range from subscription video on demand to free ad-supported services, along with live streaming options that feature live sports and awards shows.
Currently, the company's flagship streaming service, CBS All Access costs $6 per month with ads and $10 without them, but this is likely to increase as the service adds content from Viacom.
Combined Showtime and CBS All Access have reached their original goal of eight million subscribers by 2020 two years earlier than the company projected. CBS raised its SVOD target to 25 million domestic subscribers across both services by 2020, up from its previous goal of 16 million.
However, this streaming strategy presents a Catch-22. By diverting more resources towards building a low-cost alternative with its streaming services, and therefore away from its legacy businesses, which are the financial backbone of the company, the losses will only accelerate.
By doubling-down on traditional network television through the merger, while simultaneously trying to compete in the soon-to-be chaotic streaming landscape among much bigger companies, the newly eloped ViacomCBS is setting itself up for disappointment. 
---
A Case For Amazon Buyout
There are five primary reasons why Amazon would consider acquiring the newly combined ViacomCBS.
1. Library: ViacomCBS controls one of the largest and oldest content libraries in Hollywood. The ownership of long-established shows and film franchises is the key ingredient Amazon is missing.
2. Brands: The company controls Star Trek, Mission Impossible, NCIS, South Park, CSI, and many other recognizable properties.
3. Production: CBS decided years ago that its survival would depend on selling shows to outlets it didn't own. The company is actively selling content outside of CBS and Viacom. The studio currently makes shows for Netflix, Starz, and TBS. A similar production-for-hire strategy has been adopted by Sony Pictures Television.
4. Sports: Amazon wants prominent sports rights for its Prime streaming business and CBS has been a long-time partner with the NFL. The NFL's multi-billion contract with CBS and other networks expires in 2022. However, these contracts are usually finalized two years before expiring, which means the battle for NFL rights will be in full swing next year.
If Amazon wants to compete for NFL rights, it would benefit from the help of a traditional distributor that is adept in delivering massive live sports events to a much larger audiences than streaming services can currently generate independently.
5. Cheap: Priced against its peers, shares of Viacom and CBS are extremely cheap. Viacom shares have fallen more than 60% over the last five years; over the same period shares in CBS fell 22%. After the merger decision last week, CBS shares tumbled another 10%, and Viacom sank 13%.
---
FilmTake Away
With Amazon's strict corporate culture, which is completely at odds with Viacom and CBS, the retail giant has the opportunity to acquire the combined studio and remake it in its own image.
Perhaps the biggest stumbling block would be the reluctance of Shari Redstone to hand over the reigns to the empire she spent the better part of twenty years trying to control.
---