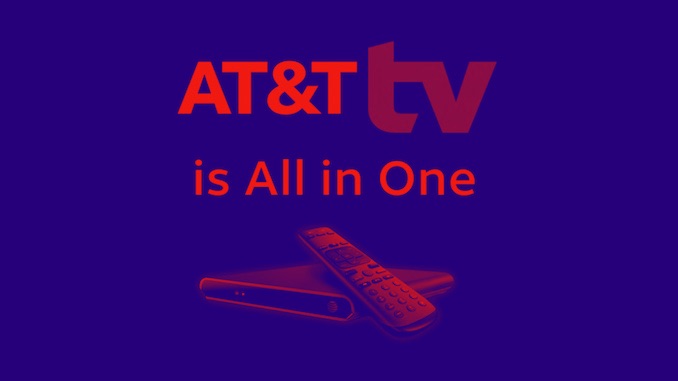 The largest US cable and satellite companies lost 5.5 million pay television subscribers in 2019, compared to 3.5 million in 2018. Leading the decline was AT&T's DirecTV, which is seeing its satellite subscribers flee after their contract period expires.
This week AT&T released its answer to subscriber losses with an all-new service. AT&T TV is a set-top box that streams live television channels through the internet.
---
Introducing AT&T TV
Similar to DirecTV, AT&T TV offers 100 channels in its basic package, which are available through a set-top box. The basic package will currently cost new subscribers $49.99 a month, with two more robust options costing $54.99 and $64.99. The service has been available in multiple test markets, but this week it is available nationwide.
The new set-top box will not replace other services that the company offers, but it will create greater confusion. The telecom giant provides a bewildering array of internet and entertainment options, including AT&T TV, U-verse, DirecTV, AT&T TV Now (formerly DirecTV Now), AT&T WatchTV, HBO Go, HBO Now, and the forthcoming HBO Max. HBO Max, the company's SVOD answer to Netflix, Amazon, and Disney+ will launch in May at the cost of $14.99 a month.
However, unlike these other services, which are closed networks, AT&T TV will be available to anyone with an online connection. Another significant advantage is the simplicity of self-installation, which doesn't require expensive service calls from technicians.
AT&T TV boxes will be similar to a Roku or Apple TV device, which allows the user to combine several third-party services, such as Netflix and Amazon.
Notwithstanding its merits, old habits do die hard, and the new service will only be made available through a two-year contract, which requires a $19.95 activation fee and an early termination fee of $15 per month for each month remaining in the agreement.
More troubling are the massive pricing increases to automatically follow. After 12 months, the prevailing rate will apply, which is currently $93 per month for the basic package and $110 and $135 per month for the Choice and XTRA packages.
---
Simpler and Cheaper
Maintaining traditional pay television subscribers is expensive for cable and satellite companies. Installation, customer service, equipment costs combined with the ever-expanding sums of money demanded by content distributors for programming drives monthly fees ever upwards.
The cost of capture a new satellite subscriber can total as much as $800 after accounting for marketing and installation. The expense to signup a new cable subscriber is half that of a satellite addition, and AT&T is hoping it can spend around $200 on each new AT&T TV subscriber.
The company is optimistic that more urban dwellers that have difficulty receiving a satellite signal will flock to AT&T TV as a low-cost cable television option, which can still stream other popular services. However, younger demographics are reluctant to sign long-term contracts for content.
---
Biggest Losers
AT&T's DirecTV is far and away the biggest loser; the company lost 4.1 million satellite and fiber-optic subscribers last year. It's main competitor, Dish Network, shed 500,000 subscribers in 2019. More troubling was the 94,000 quarterly loss for SlingTV, the Dish's internet video service, which marked the first quarterly decline since launching in 2015.
AT&T ended the year with 20.4 million subscribers; Dish ended 2019 with just under 12 million subscribers. The three leading cable companies, Comcast, Charter, and Altice, lost around one million pay television subscribers in 2019.
More cord-cutting will take place in 2020 as pay television packages increase monthly fees by 3-6%. Subscribers will continue to build a custom array of streaming options and opt for skinny bundles.
The biggest winners for streaming television will be Amazon, which offers personalized bundling through Amazon Channels, YouTube TV, Hulu + Live TV, and perhaps AT&T TV. Disney+, HBO Max, and to a lesser extent, Apple TV+ and Peacock will slightly erode Netflix's streaming dominance in the US.
---
FilmTake Away
Traditional pay television subscriptions are in freefall––the rate of subscribers canceling their service accelerated by more than 70% last year.
That being said, cable companies are not as upset as one might assume with the continued pay television declines because they are signing up record numbers of broadband subscribers. These companies make much more profit merely delivering the internet rather than marketing, installing, programming, and maintaining cable and satellite services.
---