Netflix's ad-based tier aims to reduce the high churn the company faced in 2022, attract new subscribers, and lure back those who canceled. However, by all measures, the rushed experiment is failing fast.

Currently, Netflix's AVOD tier accounts for 12% of its subscriber base; however, during Q4 2022, 11% of its subscribers downgraded from SVOD to AVOD.

As expected, the savings of $3 a month was not enough incentive to win new subscribers, only in capturing those downgrading from higher tiers.
Netflix's Subscriber Base Continues to Decline
Netflix cancellations are almost entirely related to costs. From July to September 2022, the top two reasons for subscribers canceling were to save money (39%) and unwillingness to pay its higher subscription fees (17%), which have steadily risen in recent years.
Planned streaming cancellations over the next three months (January to March 2023) remain at 5% of subscriptions. Yet, AVOD subscribers have the highest rate of planned cancellations, indicative of the sub-sector's higher propensity to rotate between multiple streaming services.
However, subscription streaming overall remains robust. From September to December 2022, the number of households with video streaming rose by 2.5 million, reaching 115.7 million households, or 89% penetration.
---
The Hasty Advertising Launch Fails to Hit Expectations
Netflix pushed the launch of its advertising tier to beat Disney+ to the market by a month. Likewise, Netflix priced its ad-supported service at $6.99, again undercutting Disney+, which is priced at $7.99.
Netflix and Disney+ couldn't have picked a worse time to enter the advertising space as ad-spending contracts, which was evidenced by Netflix's failure to sell enough ads out of the gate (more below).
One of the many challenges for Netflix is introducing advertising into programming that was not designed with specific ad breaks. Series content, and obviously films, that were produced for SVOD services do not have the natural breaks for advertising. Careful integration and ad load will be vital for not turning off viewers.
Netflix subscribers who downgraded to its AVOD tier are less satisfied with the service because several titles available to SVOD subscribers are blacked-out due to contractual limitations and because the lack of advertising options leads to repetitive ads.
---
Uncover past, present, and future rate cards for episodic television content streaming in multiple availability windows worldwide.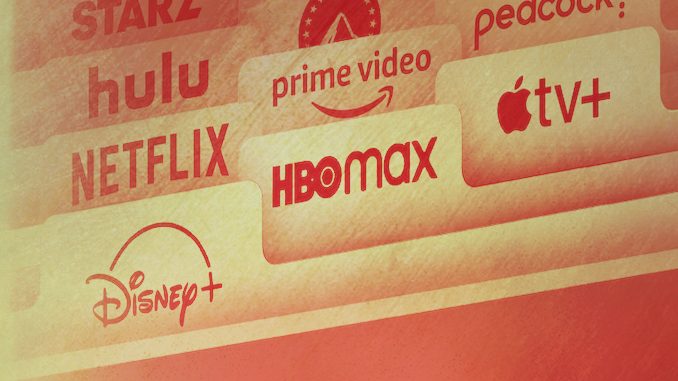 Your gateway to SVOD episodic licensing rates in dozens of territories in Europe and North America.
Draw upon nonpublic rates to ascertain content values.
There are 95 pages in three PDF reports showcasing rate cards and relevant terms aggregated from a dozen SVOD Licensing Agreements. Also included is an MS Excel Workbook with 1,300+ data points for custom research and analysis.
---
US Percentage of New Streaming Subscribers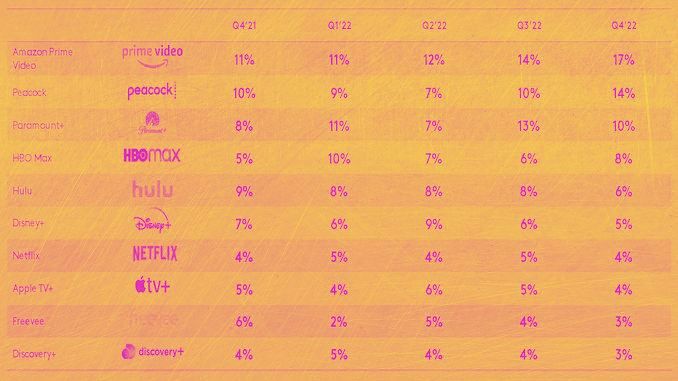 ---
Netflix Fails to Deliver Contracted Ads
Reports from the advertising world confirmed that Netflix's new advertising tier failed to hit contractual viewership targets. According to insiders, Netflix delivered less than 80% of the expected viewership numbers to advertisers. As a result, Netflix permitted advertisers to reclaim funds for ads that had not run.
Netflix's advertising tier launched in early November in the U.S. for $6.99 per month, compared to $9.99 for its basic tier without ads. The company also offers a standard tier for $15.49 and a premium tier for $19.99, both of which allow more than one device and offer enhanced picture quality. Currently, Netflix plans to deliver between four and five minutes of ads per hour. However, due to licensing agreement restrictions, over 10% of its catalog, which includes its most prestigious titles, will not be available to its advertising subscribers.
Netflix structured its initial ad deals on a "pay on delivery" basis, in which advertisers would only pay for the viewers they reached, and Netflix would release unspent ad dollars at the end of the quarter.
The company had initially sought advertisers to pay $65 per thousand impressions, which exceeds the $50 CPM that Disney+ sought, which makes Netflix the priciest of the major ad-supported streaming services. Netflix has since lowered its price, but it is still asking advertisers to pay a $55 CPM, though ad buyers will likely use the slow start to haggle for price reductions.
---
FilmTake Away: Will Netflix Reverse Course?
While many industry observers and insiders tout the decision by Netflix to embrace advertising, the move will likely be a disaster for the company by cannibalizing its core SVOD service. If current trends continue, Netflix will likely discontinue its AVOD tier within the year.
A year ago, it would have been unthinkable that Netflix and Disney+ would reverse their position against advertising, but here we are.
Uncover what Disney+, HBO Max, Netflix, Amazon, and other leading SVOD services pay to license feature films and episodic television content with unrivaled media business intelligence.
---