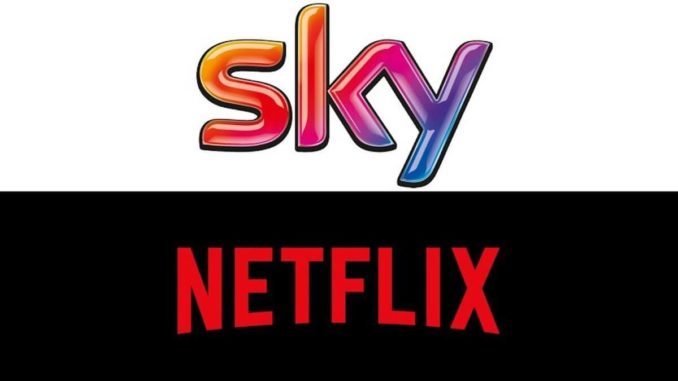 March 5, 2018
Sky and Netflix Content Partnership
Sky, Europe's largest pay television provider, announced a partnership to carry Netflix on its direct satellite network and OTT platforms.
Integrating Netflix into Sky's various subscriptions will start in the United Kingdom and Ireland before expanding to Germany, Italy and Austria.
Sky has 28 million satellite television and OTT subscribers throughout Europe. Since launching its advanced set-top box service, Sky Q, in 2016 two million households have adopted it.
Europe's SVOD Expansion
Netflix expanded rapidly throughout the UK in 2017. Netflix has nearly 8 million UK Subscribers, which represents over 30% of all broadband households. In its home market of the US, Netflix is available in about half of all broadband households.
However, Netflix's per capita growth is much slower in the rest of Europe. The streaming service launched in Germany in 2014 and has only captured about 10% of broadband households or 3.3 million. In Italy where the service launched in 2015, less than a million households have joined.
Although initially slow to adapt to the SVOD trend, France saw SVOD revenue double from 2016 to 2017. Likewise VOD revenue increased 38% year-over-year.
However, the media landscape is more democratic in France than most of Europe. Netflix is the narrow leader, but it is being challenged by several local services including, Altice's SFR Play, Canal+ Group's Canal Play and Wild Bunch's Filmo TV. Amazon also launched its Prime service at the beginning of 2017.
Netflix Grows Through Partnerships
In a reversal of Netflix's original strategy, the company is signing several deals with digital MVPDs and pay television provides to expand into global households.
Netflix has various ongoing agreements in Europe including with Virgin Media and BT TV in the UK, TIM in Italy, and DT in Germany.
Netflix benefits by accessing established pay television subscriber bases. Additionally, Netflix escapes many expenses by allowing the pay television operators to handle marketing and billing.
This arrangement with Netflix will help Sky retain subscribers that have been leaving the company's direct satellite service for their cheaper NOW TV service or cutting the cord altogether.
There is less incentive to unsubscribe if a customer can build a customized platform from a range of add-on services, which now includes Netflix. To create a more complete customer experience, last week Sky added music streaming service Spotify.
Sky Content Grab
Sky has constructed the most successful service in Europe by offering premium sports, first-run films, and popular shows from the likes of HBO and Showtime.
Competition from BT and non-linear services like Amazon propelled Sky to join forces with Netflix.
Sky also starting producing original films and providing same day theatrical release offerings to subscribers. While many services in Europe provide access to film content, only Sky offers first window viewing from all major film studios.
Sky will spend £7 billion on content in 2018.