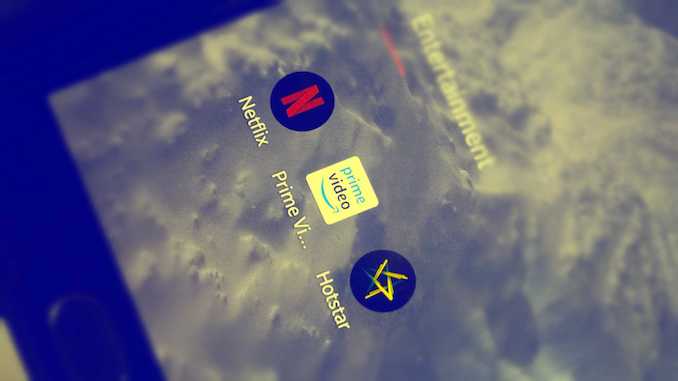 JUNE 13, 2019
Disney, Amazon Prime, and Netflix have pivoted to India, the world's second largest market, after plans to launch and sustain services in the world's most populous nation hit the Great Wall of China.
More so than in China, local content dominates in India, which is a hard lesson Western content providers are starting to understand.
After years of failed attempts to attract local viewers for non-Indian content, Amazon Prime and Netflix are imitating homegrown content providers in a renewed effort to build services in India.
---
Disney's Quiet Coup
When Disney purchased the bulk of Fox's assets in March, it acquired Star India. The deal instantly made Disney the owner of Star India's Hotstar, the most successful subscription-video-on-demand provider.
Star India is a 28-year-old network that controls over 10 television channels and a massive catalog of content in multiple Indian-languages.
Similar to China, most subs in India only access free content made available via online platforms. However, Hotstar, Amazon Prime, and Netflix have been able to capture some paid subscribers.
As of May 2019, Hotstar has around 3 million subscribers paying either $4.29 per month or $14.28 for the entire year upfront (which is $1.19 per month). Amazon Prime, which launched locally in 2016, has roughly 2.5 million subscribers who are paying $1.19 per month.
And Netflix has managed to capture 1.2 million subscribers at a monthly fee between $7.15 and $11.50 per month. However, Netflix plans to make massive cuts in its monthly fee to attract new subscribers. Recently, the company started offering mobile-only plans for $1 per week in order to gain traction.
About 80% of the content on Hotstar is offered for free.
Hotstar was launched four years ago as India's first mobile streaming platform. The majority of content watched on the service consists of cricket matches, user-uploaded videos similar to YouTube, local films and television programs. Hotstar logs over 300 million monthly users, which is 10% more than YouTube.
---
Indian Honeypot
There are many unique challenges facing premium streaming services trying to build sizable paying subscriber-bases in India.
First, the fee that most Indian viewers can afford to pay is too low to justify making expensive content available. Second, piracy is so rampant that most online viewers can easily access the most popular movies and films without a fee or fear of prosecution. Third, the tastes of Indian audiences are extremely difficult for U.S-based companies to decipher. Finally, there are several languages in India. For example, Hotstar has programs in eight different languages, Amazon Prime in nine, and Netflix in seven local languages.
However, India's plummeting mobile-data costs and access to cheap smartphones provides the groundwork for mobile SVOD services to thrive.
Between Amazon and Netflix, the latter is doing the most to produce local content. Netflix has produced several local-language dramas and the ever-popular love stories. Currently, Netflix has 19 films and shows in production, followed by Amazon Prime with eight.
To survive in an environment with so few paying subscribers, SVOD services in India will need to rely on advertising dollars instead of monthly subscription fees. According to BCG Consultancy, online ad revenue is expected to explode from $500 million in 2018 to $5 billion in 2023.
Another driver for growth is the fact that only 4% of India's 4G-enabled smartphone users subscribe to video a service, which leaves on the table roughly 1 billion prospective subscribers. However, in terms of market size, it's important to understand that only 10% of India's adult population (or 90 million people) earns more than $40,000 per year.
---
FilmTake Away
When Netflix's CEO has asked last year where Netflix find more subscribers going forward, he said the next 100 million will come from India.
Jokes aside, Disney's Hotstar is the clear favorite in India's streaming showdown. The streamer has rights to over two decades worth of hit local films and shows from Star India and just renewed a deal to offer cricket matches. Additional, Disney is launching Disney+ worldwide soon, which should attract a sizable portion of India's most well off.
---
TwitCount Button