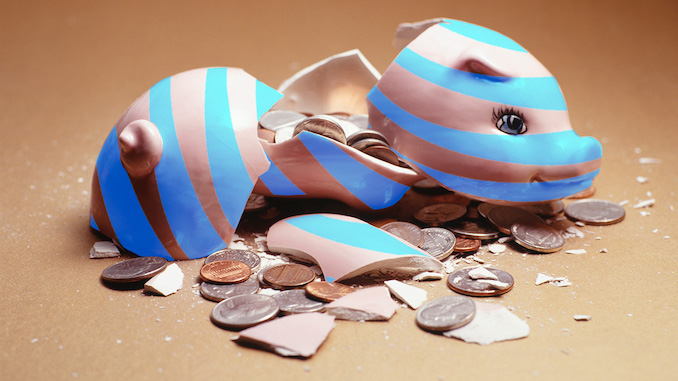 JANUARY 31, 2019
AT&T's buyout of a declining DirecTV and a sputtering Time Warner at the top of the market is materializing into a massive miscalculation.
The telecom company's media ambitions, which started with the $49 billion purchase of DirecTV in 2015, was ill timed in lieu of the impending streaming showdown between Hollywood giants and Netflix.
However, what is more distressing is the possibility that AT&T's buyout of Time Warner for $85 billion last year is turning into an albatross around the company's neck. With nearly $185 billion in debt, AT&T may have broke open the piggy bank at the wrong time to fund these expensive acquisitions.
99 Problems
Beyond maintaining AT&T's core telecom business, the company is beset with a host of new problems after the acquisition of DirecTV and Time Warner.
First, the company is trying to juggle a declining pay satellite market in its DirecTV unit, which is only accelerating, by growing the low-cost alternative DirecTV Now.
The initial fear that the cheaper service would cannibalize the traditional business was not pessimistic enough. Because now after only two years DirecTV Now is starting to shed subscribers too.
Second, the company is struggling to maintain HBO's status in a fracturing media landscape while expanding HBO Now, the cord-cutting alternative to the traditional service.
With these problems and many more, WarnerMedia is now attempting to build from scratch a stand-alone streaming service this year to compete with Netflix and to a lesser extent Hulu, Amazon, and the forthcoming Disney+.
Lastly, the cherry on top of AT&T's pie is $184 billion in long-term debt, which will only increase as it launches a capital-intensive streaming service.
The Hulu Question
With the future of Hulu unclear after Disney's buyout of Fox, WarnerMedia is probably looking for a buyer to assume its 10% stake in Hulu, the 11-year-old answer by Hollywood to Netflix.
Before Disney's acquisition of Fox, Hulu's ownership was held in 30% equal shares by Disney, Fox, Comcast (Universal), with Time Warner holding 10%. Disney will now hold 60% majority share.

The SVOD & PayTV Series includes rate cards and values for content licensed by Netflix and Starz on a wide array of titles.
No Downloads found
From Bad…
DirecTV has been shedding subscribers since the beginning of 2017, which is only accelerating. Since the beginning of this decline, the service has lost over 1.8 million satellite subscribers, nearly 9% off its high of 21 million two years ago.
In the last quarter of 2018, DirecTV lost 408,000 satellite subscribers, leaving the service with 19.2 million. Analysts were expecting a loss of 300,000 subscribers.
However, the most troubling revelation is the loss of 269,000 DirecTV Now subscribers in the same quarter. This new service was supposed to be the lower cost alternative to the traditional service to catch fleeing cord cutters.
This loss was a 14% decline from 1.86 million to 1.59 million subscribers. Such a substantial loss after only two years of operation is a bad omen.
…To Worse
In the last quarter, HBO's revenue declined to $1.67 billion from $1.68 billion, while Turner's fell to $3.21 billion from $3.23 billion.
In the ever-expanding world of Netflix, one of the most alarming trends for the company to reverse is the 3% drop in HBO's subscription revenue in the quarter to $1.4 billion.
Worst still was the performance of the Entertainment Group where DirecTV and the media assists are managed from. Revenue within this unit dropped 5.6% compared to last year.
The only bright spot within the Entertainment Group was Warner Bros., which grew revenue to $4.47 billion from $4.05 billion.
Time Capsule
"In the most dramatic instance yet of new media supplanting old media, America Online is buying Time Warner, the largest media and entertainment conglomerate in the world, for $162 billion. America Online shareholders will own 55 percent of the company, and Time Warner shareholders the rest."
"The deal would be the biggest corporate merger of all time as well as an aggressive bet that online delivery of media is the wave of the future."
ABC News January 10, 2000
FilmTake Away
The production and delivery of media content is fragmenting into a plethora of consumer options. However, this fracturing is only an illusion of choice as fewer and fewer companies control greater and greater proportions of content creation and distribution.
Updated January 31, 2019 to correct DirecTV acquisition from 2017 to 2015.