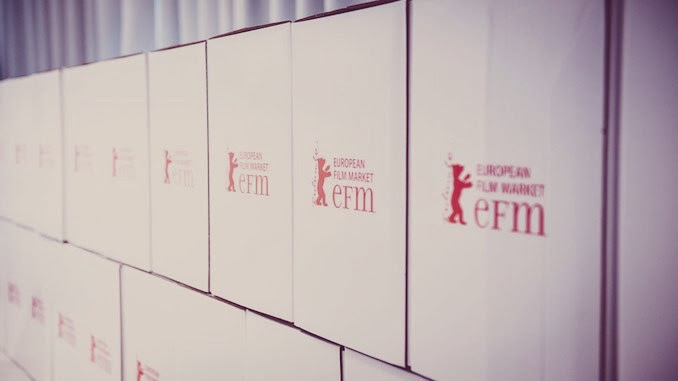 With box office receipts down in Europe, many distributors have been offering smaller minimum guarantees across the board.
However, the upshot to this pricing pressure is that buyers are willing to take greater risks on lower-budget films.
Following brisk business at Sundance by Netflix and Amazon, these streaming platforms will continue buying worldwide rights to films at EFM and other markets as streaming competition heats up.
At Sundance, buyers spent $120 million acquiring rights to over 40 films. However, the big news came from Amazon, which dropped $46M on five films.
Amazon has been backing away from independent film over the last two years, but they are back in force as the streaming market sets to expand with the introduction of services from WarnerMedia, Disney, Epix, Paramount, and several others.
To highlight this point, Netflix sent a 49-person delegation to EFM, while Amazon is bringing 22 people.
Below is comprehensive list of high demand films at this year's European Film Market.
| Film Title | Director | Genre | Status | Intl' Agency | US Agency |
| --- | --- | --- | --- | --- | --- |
| Amazing Grace | Alan Elliot, Sydney Pollack | Doc, Music | Completed | | Endeavor |
| Ammonite | Francis Lee | Drama, Romance | Pre-production | See-Saw Films | CAA |
| Black Flies | Jean-Stephane Sauvaire | Drama | Pre-production | IMR | CAA & Endeavor |
| Call Jane | Sian Heder | Drama | Pre-production | Protagonist | ICM Partners |
| Color Out Of Space | Richard Stanley | Horror, Sci-Fi | Filming | XYZ Films | XYZ Films |
| Corporate Animals | Patrick Brice | Comedy, Horror | Completed | Protagonist | UTA, ICM |
| Dreamland | Nicholas Jarecki | Thriller, Drama | Filming | Solution | Endeavor |
| Farnsworth House | Richard Press | Drama | Pre-production | HanWay Films | ICM Partners |
| Follow Me | Will Wernick | Thriller, Horror | Post-production | Voltage Pictures | |
| Give Me Liberty | Kiril Mikhanovsky | Comedy | Completed | Wild Bunch | CAA |
| Horizon Line | Mikael Marcimain | Thriller | Pre-production | STX International | |
| Knives Out | Rian Johnson | Crime, Drama | Post-production | FilmNation | |
| Light Of My Life | Casey Affleck | Drama | Completed | Sierra/Affinity | Endeavor |
| Love At Second Sight | Hugo Gelin | Comedy, Romance | Completed | StudioCanal | |
| Promising Young Woman | Emerald Fennell | Crime, Drama | Pre-production | FilmNation | UTA |
| Reminiscence | Lisa Joy | Sci-Fi, Thriller | Pre-production | FilmNation | |
| SAS: Red Notice | Magnus Martens | Action, Thriller | Post-production | Altitude Film Sales | |
| Shadow In The Cloud | Roseanne Liang | Action, Horror | Pre-production | Endeavor | Endeavor |
| Shirley | Josephine Decker | Biography, Drama | Completed | Cornerstone Films | Paradigm, UTA |
| Silk Road | Tiller Russell | Crime, Thriller | Pre-production | Sierra/Affinity | Endeavor |
| Someone, Somewhere | Cedric Klapisch | Romance | | StudioCanal | |
| Stardust | Gabriel Range | Drama, Music | Pre-production | Film Constellation | |
| The Cave | Tom Waller | Drama | Post-production | Wild Bunch | CAA |
| The Chain | Tim Sutton | Thriller | Pre-production | Voltage Pictures | |
| The Friend | Gabriela Cowperthwaite | Drama | Pre-production | STX International | |
| The Heart | Nat Faxon, Jim Rash | Action, Comedy | Pre-production | Sierra/Affinity | |
| The Hustlers At Scores | Lorene Scafaria | Drama | Pre-production | STX International | STXfilms |
| The Night House | David Bruckner | Horror, Thriller | Pre-production | Anton | Endeavor |
| The Power Of Love | Valerie Lemercier | Biography, Drama | Pre-production | Gaumont | Gaumont |
| The Trial Of The Chicago 7 | Aaron Sorkin | Drama, Crime | Pre-production | Rocket Science | CAA |
| Voyagers | Neil Burger | Sci-Fi, Thriller | Development | | |