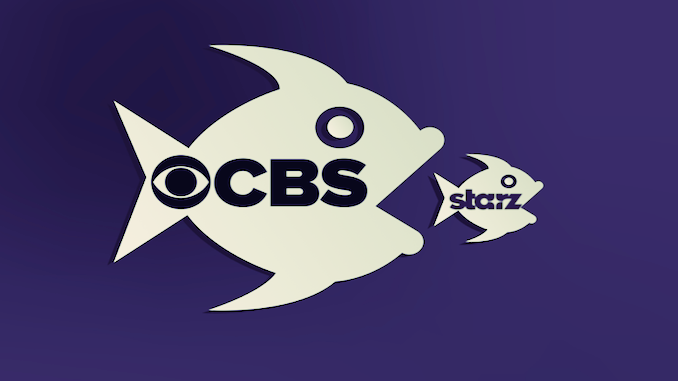 The timing of the anonymous leak that CBS was prepared to pay Lionsgate $5 billion for Starz, raises serious questions about possible market manipulation.
On May 17th, shares of Lionsgate spiked 15% on rumors of the supposed offer from CBS. The leak came just days before Lionsgate announced disappointing revenue and earnings figures.
Why would CBS pay $5 billion for Starz, when based on Lionsgate's market cap, CBS could buy the entire company for $3.1 billion?
---
Full-Year Declines Deepen
On May 23rd, Lionsgate reporting disappointing quarterly and fiscal year-end figures.
For the fiscal year ending March 31st, the motion picture segment revenues decreased by 20% to $1.46 billion, and profits decreased by 28% to $129 million. The television production segment revenues decreased by 11% to $921 million, and profits decreased by 41% to $66 million.
The only bright spot came from Starz, which is reported as the media networks segment. Revenues in media networks increased by 4% to $1.46 billion, and profits increased by 2% to $436 million.
The positive Starz results came from strong OTT subscriber growth that reached over 4 million subscribers. Starz ended the quarter with 24.7 million total domestic PayTV subscribers, up 1.2 million from the same quarter last year.
However, the quarterly results were more dismal. The motion picture segment reported revenue of $357 million, down from $425 million during the same period a year ago. Likewise, television production revenue declined to $272 million, compared with the $294 million in the same quarter last year.
Yet again Starz furnished the only good news; revenue increased to $362 million, compared with $353 in the prior year.
With all segments combined, Lionsgate reported a net loss of $159 million from January to March 2019.
The current financial realities begs another important question. Why would Lionsgate sell its most valuable asset in Starz after only just wrestling away full-control after the ouster of its long-time CEO?
---
The Anonymous Offer
Shares of Lionsgate spiked 15% on May 17th based on rumors that CBS Corp. was prepared to pay $5 billion to acquire its Pay-TV channel Starz. Supposedly, Lionsgate asked CBS to raise its bid from $5 billion to $5.5 billion. Although no formal offer has been made, talks between the two companies have been reported as ongoing for weeks.
The 15% stock boost might seem significant at first glance, but Lionsgate shares have lost that much value in the last month alone. Overall shares of Lionsgate have plunged 42% since peaking last summer.
In the last quarter of 2018, revenue at Lionsgate fell by 20% and net income by 90%. In contrast, Starz increased revenue by 4% and net income by 10% in the same quarter.
---
Penny Wise, Pound Foolish
The Starz merger provided a much-needed boost, especially to the bottom-line of Lionsgate.
As of March 2019, Starz has the same number of PayTV subscribers as at the time of acquisition, around 25 million, but now has over 4 million OTT subscribers through partnerships with Amazon, Hulu, and Google. The Starz App will also be available on Apple's new streaming service.
When Starz was acquired, Lionsgate's market cap was $6.1 billion; meaning Starz comprised an outsized proportion of the company's overall value post acquisition.
But after only two years since purchasing Starz, Lionsgate is in such desperate need of cash that it is prepared to sell the PayTV channel at a near loss. Although, on paper the $5 billion offer is more than the $4.4 billion paid 28 months ago, it's nearly a wash after two year's worth of executive payouts, including of Starz's CEO, acquisition expenses, and debt maintenance.
Lionsgate has operated on autopilot for the last two years in anticipation that it would merge or be acquired. Upon the realization that it would remain an independent company, multiple film executives departed, and many of those remaining are demoralized.
The company's many setbacks have resulted in the halting of many new and ongoing productions. In the interim, Lionsgate is scaling back even further by focusing on acquiring titles for distribution rather than in-house productions, which presents a massive opportunity for independent filmmakers.
Lionsgate's attempt to sell its most valuable asset without a true effort to maximize its value is penny wise in the short-term, and pound foolish in the long-term.
Reversal of Fortune
Lionsgate greatly strengthened its value by purchasing Starz in December 2016 for $4.4 billion. The deal provided Lionsgate a premium cable channel, which at the time had 25 million paid subscribers, one million streaming subscribers, and a host of original programming.
The Starz acquisition punctuated Lionsgate's emergence as a serious competitor to the major studios, especially at the box office after massive franchise hits such as The Hunger Games and Twilight. In 2012 and 2013, films released by Lionsgate grossed over $1 billion in the United States and Canada, outperforming both Fox Studios and Viacom's Paramount Pictures.
However, after the inevitable collapse of a tired fantasy fiction formula aimed at young adults, Lionsgate's fortunes started to reverse.
The Santa Monica-based production company experienced almost unprecedented drops for franchise films Divergent and Now You See Me. The sequels only grossed about half of their previous films. And, films that Lionsgate hoped would spawn franchises, such as Gods of Egypt and The Last Witch Hunter, bombed, while the third installment of Divergent was released DTV instead of in theaters.
In lieu of Lionsgate's box office mishaps, the company's purchase of Starz made it once again the target for acquisition by competitors and technology companies.
Double Take
In January 2018, Lionsgate was the subject of a supposed bidding war between Amazon, CBS, Comcast, Verizon, and Viacom.
Of all the suitors, Lionsgate was most interested in merging with CBS and Viacom. However, at the time, these Redstone-led companies were under chaotic family stewardship embroiled in executive infighting, court competence tests of the patriarch, payouts to paramours, sexual harassment claims against CBS's CEO, and general mismanagement by the family-run business.
Under a renewed climate of professionalism, CBS wants to bolster its pay television and digital reach, which already includes Showtime and CBS All Access.
Viacom and CBS, are yet again considering a merger, a yearly ritual observed, but never consummated. However, this time a merger might actually take place after the departure of Les Moonves, CBS's longtime CEO who had long fought combining the two companies, and through the insistence of Shari Redstone, the de facto Chairman of National Amusements.
FilmTake Away
The uneasy merger between Lionsgate and Starz was rocky from the start.
However, after the departure of Starz's decade-long CEO in February 2019, it appeared that Lionsgate was finally going to unlock the value of Starz by expanding its television production division.
Lionsgate's sacrificial sale of Starz will strip away its only valuable asset while dooming the company to a life it led before Twilight and The Hunger Games.
The best chance Lionsgate, CBS, and Viacom have in competing with the three new mega-studios, Disney, NBCUniversal, and WarnerMedia, would be a full merger.
---