China's Recon Group fails to close its buyout of Millennium Films.
All Hollywood-China deals are in peril, as many have failed to close in the last few months.
In March 2017, Avi Lerner's Millennium Films announced the sale of the company he founded in 1996, to Tony Xia's Recon Group. The original deal was reported as a full buyout for $200 million. However, shortly after the announcement, the offer was amended to a 51% stake for $100 million.
Sources now state that the deal is officially over. Lerner has not responded to requests for comment.
---
China's Hollywood Broken Ambitions
This year already four announced investments by Chinese companies in Hollywood have fallen apart –
Huahua Media's $1 billion cash infusion to fund 25% of Paramount's slate;
Wanda's $1.07 billion buyout of Dick Clark Productions;
Xinke's $350 million investment in Voltage Pictures; and now
Recon Group's 51% buyout of Millennium Films for $100 million.
Hollywood's perpetual funding problems were seemingly solved when several China-based firms announced sizable investments in multiple media companies. However, now that most of these deals are falling apart amid tighter capital controls and a mounting debt crisis, the industry is in trouble.
When we polled our readers in March asking which deal would fail next, 29% thought it would be Recon Group's buyout of Millennium.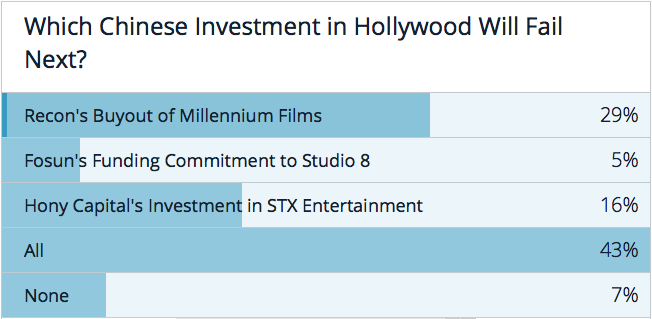 ---
Wanda's Woes
Wanda Group, which has spent billions on entertainment and sports companies in recent years, has become a target in China's clampdown on capital outflows. Many sources say Chinese banks have been told to stop funding Wanda's overseas acquisitions.
A mysterious document that appeared on social media in China places all of Wanda's Hollywood acquisitions in question.
Wanda could even be in jeopardy of not fulfilling its funding obligations from recent acquisitions, including Legendary Pictures.
Legendary lost $500 million according to Chinese regulators in 2016.
As reported by FilmTake in January, Thomas Tull unexpectedly resigned from Legendary Pictures, the company he founded in 2005 – less than a year from Wanda's takeover.
If Wanda's deal for Legendary falls apart, it's unclear if and how Tull would be involved in the abandoned company.
---
Fish Out of Water
Similar to the deal that failed last year between Xinke New Materials, a Chinese copper processor, and Voltage Pictures, China Recon is also a industrial manufacturer.
In September 2016, Xinke announced plans to acquire 80% of Voltage Pictures for $350 million.
Official sources from Xinke, claimed the deal with the Los Angeles-based sales agency failed because "Midnight Investments (Voltage's holding company) lack of positive cooperation with us has caused major uncertainty, so we decided to terminate the deal."
---
Genre King
Avi Lerner founded Millennium films in 1996 with Trevor Short to focus on distributing action and genre films internationally. Most of their catalog in the early days consisted of direct-to-video content that was hugely popular in Europe and Russia.
Over the last decade, Millennium have managed a couple international mega-hits including The Expendables and Olympus Has Fallen franchises. The company has also funded several production locations in Eastern Europe.
---