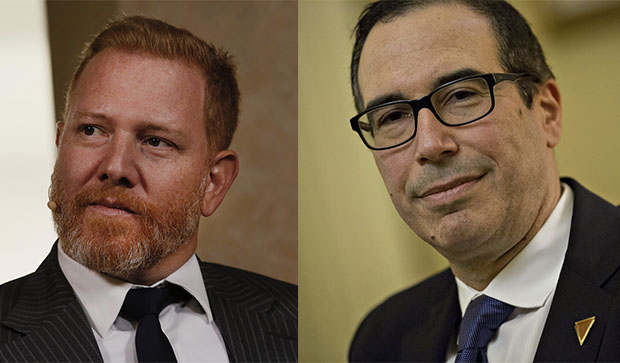 RKA Film Financing is suing Relativity Media for misappropriating funds meant to finance advertising budgets for future releases, into the troubled company's general accounts before filing for bankruptcy protection.
RKA Film Finance claims that Steven Mnuchin, now the United States Treasury Secretary, knew about several unrealistic film release plans and fraudulent budgets prepared by Relativity Media, but proceeded in securing an $80 million loan from RKA regardless.
Mnuchin served as Co-Chairman at Relativity Media from October 2014 to May 2015. He joined the company when Dune Capital Management, a private investment firm he founded, purchased debt and equity in Relativity Media.
While the Co-Chairman at Relativity Media, he was also the CEO of its lead lender, OneWest Bank. Mnuchin remained in his position at Relativity Media until weeks before the company filed for Chapter 11 bankruptcy.
---
Et Tu, Brute?
Before joining Trump's administration, Mnuchin's OneWest Bank funneled over $160 million into Relativity Media, at a time when it was an open secret in Hollywood that Relativity Media was operating as a massive Ponzi scheme.
Once the loan closed in May 2015, Relativity Media founder Ryan Kavanaugh and Mnuchin jetted around in their co-owned Dassault Falcon 50 jet to Aspen, Cabo, and Hawaii.
However, court documents reveal that one day before the loan matured, Mnuchin resigned from Relativity Media's board and seized $50 million from the company bank accounts at OneWest Bank.
This withdrawal spiraled Relativity Media into bankruptcy, unable to pay vendors or complete and release films.
---
Details of the Litigation
RKA loaned Relativity Media funds for the express purpose of prints and advertising for feature films including, Solace, Masterminds, and The Disappointments Room, which were ultimately used to met Relativity Media's general expenses and several sizable payouts to executives.
Latham & Watkins, the law firm representing RKA, claims that Mnuchin knew about the diversion of funds and was complicit in the fraud.
According to Christopher J. Clark, RKA's attorney at Latham, Mnuchin not only knew about the fraud but also willfully aided its concealment.
"To cover his tracks when he knowingly misdirected RKA's P&A loans for impermissible purposes, Mnuchin surreptitiously obtained a legal opinion that purportedly blessed using those funds as working capital." Furthermore, "if RKA had known what Mnuchin knew… it would have never extended loans in December 2014 and March 2015 that Mnuchin then misappropriated totaling over $50 million."
---
Mnuchin Claims Ignorance
Mnuchin is employing a traditional defense that he had no financial relationship with RKA. However, in perhaps the most egregious attempt to evade responsibility, Mnuchin claims ignorance of film finance. Although previously to his government post, he led a group of investors to buyout IndyMac (a sub-prime lender), which he transformed into OneWest Bank and leading film funder in Los Angeles. Likewise, as a former banker at Goldman Sachs, he arranged slate financing for major Hollywood studios, such as 20th Century Fox.
In court filings, he continues to portray himself as an outsider and not an officer at Relativity Media, which explains his lack of specific knowledge, involvement, and liability.
---
What's Next?
Judge Ramos in New York's Supreme Court will soon decide if Mnuchin remains a plaintiff in the case. In oral arguments, he was openly flippant about including the now Treasury Secretary saying, "…if this is a way to plead fraud, you could join the Pope as a defendant in this case."
However, RKA's attorney pressed on, "…and when they made those [false] representations, they lied to us. When we asked questions, they lied to us. I'm not trying to overreach," Clark said.
RKA Film Financing LLC v. Ryan Kavanaugh, et al., case number 652592/2015, in the Supreme Court of the State of New York, County of New York.
---