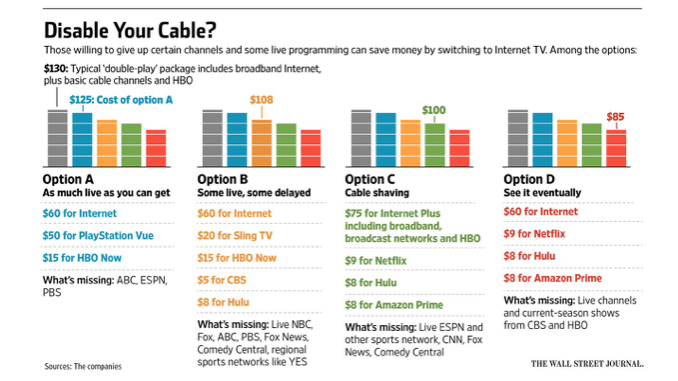 January 18, 2018
Over two million U.S households cancelled cable television services in 2017. Traditional cable and satellite providers are in for another brutal year.
Cable Subscription Exodus
PayTV providers could lose more than a million subscribers in the first quarter of 2018 alone. Most industry estimates indicate that the market will lose 4-5% in 2018.
Over the last few years, cord cutting (canceling expensive cable packages in favor of a diverse array of a la carte options) has dominated the conversation in boardrooms and on industry panels. Recent results prove that this trend is only accelerating.
Profitability for cable and satellite companies is shrinking on both sides of the coin. On the cost side, pricing through mandatory rate increases and growing content commitments are stretching margins thin. All the while subscribers are leaving in droves, thus reducing revenue. Most companies try to compensate by raising monthly fees, which counterintuitively leads to more cancellations.
Traditional Cable Subscribers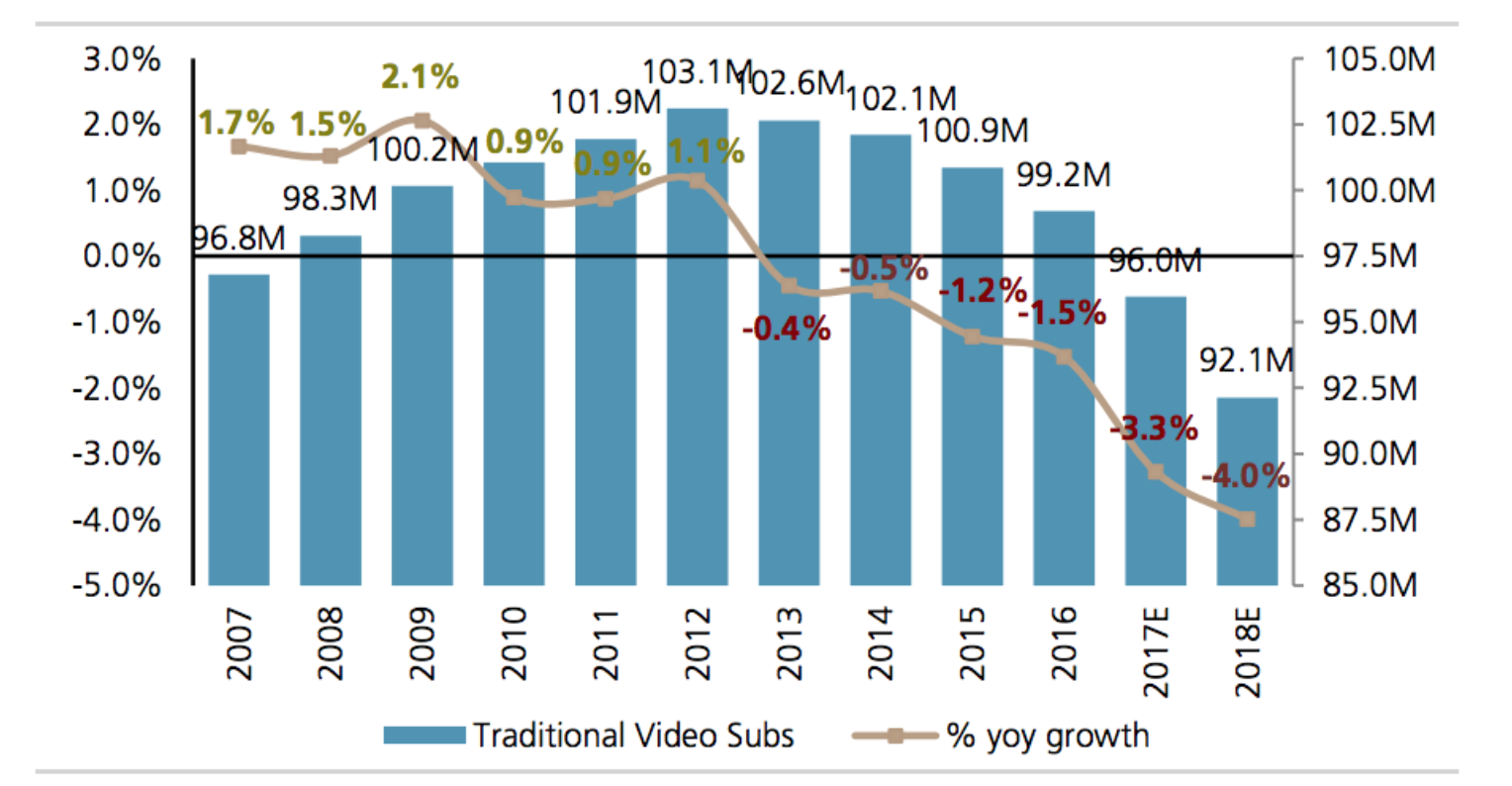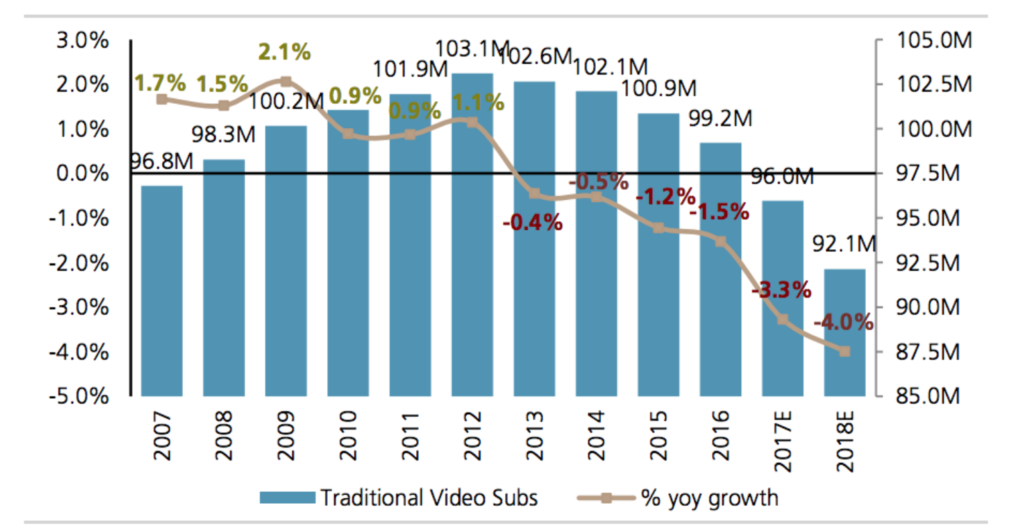 PayTV Distributors Winners
However, PayTV companies that also deliver streaming TV packages is one segment of the market that is growing. Like traditional PayTV offerings, these packages give subscribers access to collections of channels. They're delivered over the Internet, often offer fewer channels and limited options, but generally provide more flexible terms.
The best-positioned companies in this changing landscape are those that also offer broadband service. Even when subscribers cut the cord on their cable package, they still need broadband to access steaming PayTV options.
This is the impetus behind mega-mergers like AT&T and Time Warner. These contemplated conglomerates want to control both the production and distribution channels.
YouTube TV and Hulu Live are performing strongly after launching last spring. DirecTV Now is dealing with management and technical issues after being acquired by AT&T.
Subscription Services: Winners and Losers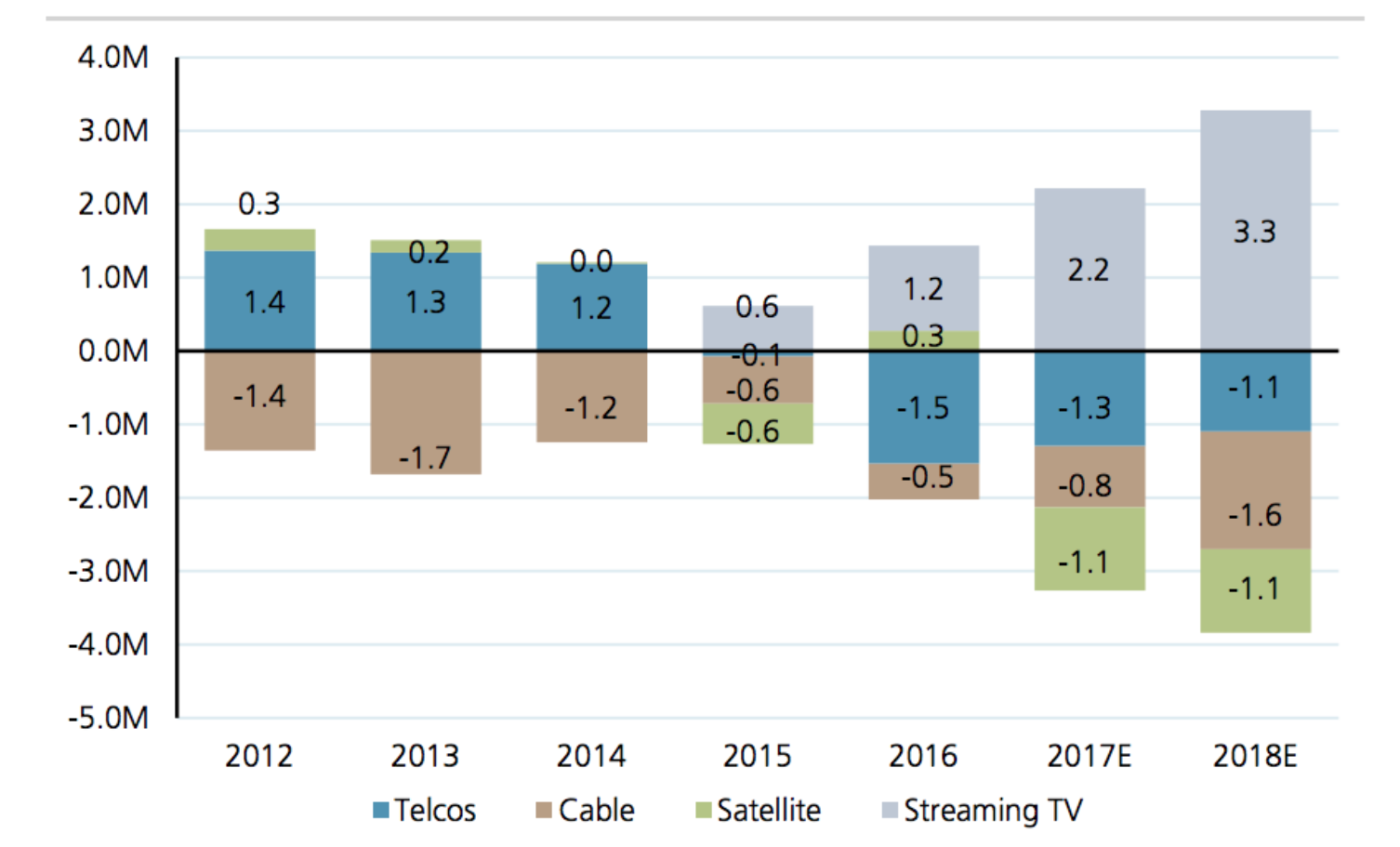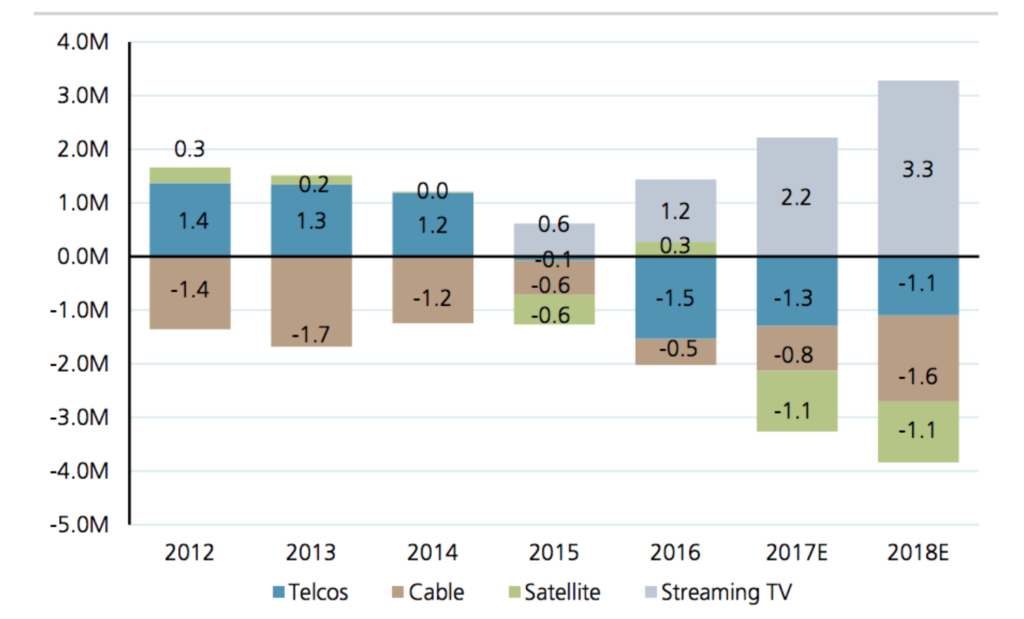 Advertising Goes Online
Not only are traditional PayTV companies losing out on subscriber fees, advertising dollars are following the subscribers and rapidly shifting online.
Newer digital video platforms like Facebook and YouTube are starting to emulate traditional advertising models. This is likely to increase as they both prep slates of quality shows completely supported by advertising. However, heavyweights Netflix and HBO Now are built solely on monthly subscription fees.