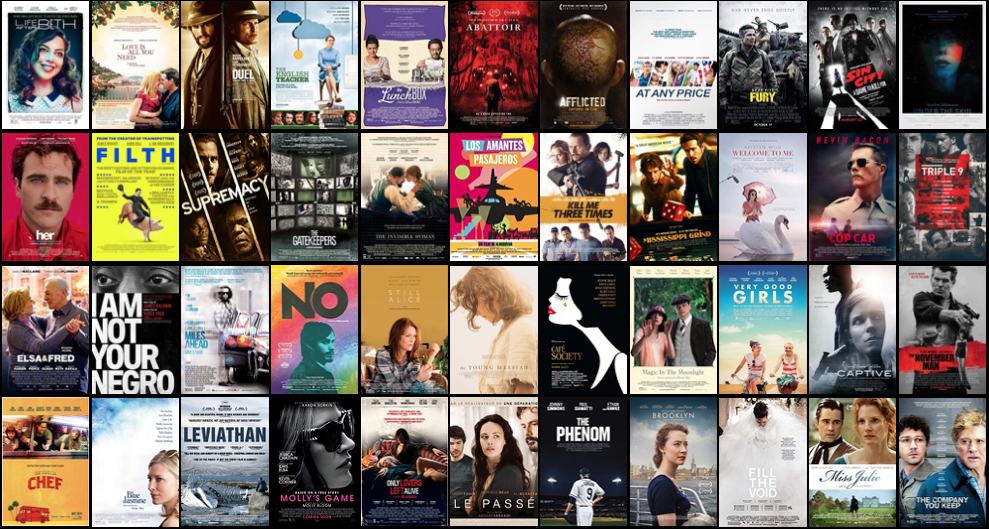 Whether you're packaging, producing, buying, or selling a film, the Film Advance Series is the only source with actual advance values.
The Film Advance Series includes 941 minimum guarantees for 75 films released around the world over the last seven years. Combined, these 75 diverse films accounted for over $1 billion in global theatrical receipts.
The Series provides comprehensive data, including film title, advance amount, territory, distributor, budget, theatrical receipts, and much more.
There are over 15,000 data points in 54-page Film Advance Series, which are contained in MS Excel format for maximum usability.
The Film Advance Series delivers unprecedented distribution intelligence to help your film, investment, or company succeed.
---
Film Advance Series Features
Includes 941 minimum advances on 75 films with budgets from $600,000 to $61 million
The 941 advances are from 41 international sales agencies and 464 all-rights distributors
Genres include Action, Bio, Comedy, Crime, Doc, Drama, Horror, Romance, Sci-Fi, Thriller, Western
The films covered in the Film Advance Series grossed over $1 billion in global box office receipts
Workbook includes more box office and distributor data than IMDb and BoxOfficeMojo combined
---
Uncover how much all-rights distributors around the world paid for advance rights to independent films across genres and budgets.
---
Here are the independent films covered in the Film Advance Series.
| IMDB CODE | FILM TITLE | RELEASE | GENRE | SALES AGENCY | ADVANCES | BUDGET |
| --- | --- | --- | --- | --- | --- | --- |
| tt1480285 | ABATTOIR | 9.00 | Horror, Mystery | Versatile | 7 | 0 |
| tt2309961 | AFFLICTED | 27.00 | Horror, Mystery | IM Global | 5 | 0 |
| tt2784900 | ANDORRA | 2.00 | Thriller, Drama | Celluloid Dreams | 10 | 0 |
| tt1937449 | AT ANY PRICE | 23.00 | Thriller, Drama | Exclusive Media | 5 | 0 |
| tt3268668 | CAPTIVE | 18.00 | Crime, Drama | Aldamisa Entertainment | 21 | 0 |
| tt3813310 | COP CAR | 7.00 | Crime, Thriller | Memento International | 5 | 0 |
| tt0835775 | ELECTRIC SLIDE | 3.00 | Action, Crime | Myriad Pictures | 29 | 0 |
| tt1645155 | ERASED | 17.00 | Action, Thriller | Myriad Pictures | 31 | 0 |
| tt2713180 | FURY | 17.00 | Action, War | QED International | 8 | 0 |
| tt5721088 | JUST GETTING STARTED | 8.00 | Action, Comedy | Sierra/Affinity | 12 | 0 |
| tt2347497 | SILENT NIGHT | 4.00 | Horror, Comedy | Lotus Entertainment | 8 | 0 |
| tt0458481 | SIN CITY: A DAME TO KILL FOR | 22.00 | Crime, Graphic Novel | Aldamisa Entertainment | 32 | 0 |
| tt2452200 | SON OF A GUN | 11.00 | Action, Crime | Altitude Films | 27 | 0 |
| tt1381404 | THE COMPANY YOU KEEP | 5.00 | Thriller, Drama | Voltage Pictures | 15 | 0 |
| tt2402157 | THE NOVEMBER MAN | 27.00 | Action, Crime | Solution Entertainment | 19 | 0 |
| tt6304046 | THELMA | 15.00 | Sci-Fi, Romance | Memento International | 12 | 0 |
| tt1712261 | TRIPLE 9 | 22.00 | Action, Crime | Sierra/Affinity | 30 | 0 |
| tt1441395 | UNDER THE SKIN | 14.00 | Sci-Fi, Thriller | FilmNation Entertainment | 26 | 0 |
| tt3704298 | VINCENT-N-ROXXY | 2.00 | Crime, Drama | Fortitude International | 19 | 0 |
| tt1545754 | ARE YOU HERE | 22.00 | Comedy, Drama | Lionsgate | 9 | 0 |
| tt2209418 | BEFORE MIDNIGHT | 24.00 | Romance, Drama | IM Global | 15 | 0 |
| tt2381111 | BROOKLYN | 25.00 | Romance, Drama | HanWay Films | 6 | 0 |
| tt4513674 | CAFÉ SOCIETY | 5.00 | Comedy, Drama | FilmNation Entertainment | 7 | 0 |
| tt2265398 | DRINKING BUDDIES | 23.00 | Comedy, Drama | Producer-repped | 1 | 0 |
| tt2219514 | FILL THE VOID | 24.00 | Romance, Drama | The Match Factory | 8 | 0 |
| tt1450321 | FILTH | 24.00 | Comedy, Crime | Sierra/Affinity | 12 | 0 |
| tt4270516 | GRANDMA | 21.00 | Comedy, Drama | William Morris Endeavor | 1 | 0 |
| tt1798709 | HER | 10.00 | Romance, Drama | Panorama Media | 6 | 0 |
| tt1435513 | HYSTERIA | 18.00 | Comedy, Romance | Elle Driver | 31 | 0 |
| tt2243389 | I'M SO EXCITED | 28.00 | Comedy | Producer-repped | 11 | 0 |
| tt2393845 | KILL ME THREE TIMES | 10.00 | Comedy, Crime | Cargo Entertainment | 12 | 0 |
| tt3194410 | LA RANÇION DE LA GLOIRE | 7.00 | Comedy, Drama | Wild Bunch | 8 | 0 |
| tt3283556 | LAND HO! | 11.00 | Comedy, Adventure | Film Sales Company | 2 | 0 |
| tt2581244 | LIFE AFTER BETH | 15.00 | Comedy, Horror | XYZ Films | 7 | 0 |
| tt1854236 | LOVE IS ALL YOU NEED | 3.00 | Comedy, Drama | TrustNordisk | 12 | 0 |
| tt2639344 | LOVE IS STRANGE | 22.00 | Romance, Drama | Fortissimo Films | 9 | 0 |
| tt2870756 | MAGIC IN THE MOONLIGHT | 25.00 | Comedy, Romance | Producer-repped | 12 | 0 |
| tt2667960 | MISS JULIE | 10.00 | Romance, Drama | Westend Films | 27 | 0 |
| tt2349144 | MISSISSIPPI GRIND | 13.00 | Comedy, Drama | William Morris Endeavor | 9 | 0 |
| tt2006810 | PAPADOPOULOS & SONS | 5.00 | Comedy, Drama | Seven & Seven | 3 | 0 |
| tt2436682 | THE DUEL (BY WAY OF HELENA) | 24.00 | Western, Drama | Westend Films | 21 | 0 |
| tt2055765 | THE ENGLISH TEACHER | 1.00 | Comedy, Drama | Myriad Pictures | 24 | 0 |
| tt2350496 | THE LUNCHBOX | 28.00 | Romance, Drama | The Match Factory | 10 | 0 |
| tt2343793 | THIRD PERSON | 20.00 | Romance, Drama | Corsan World Sales | 9 | 0 |
| tt1931602 | VERY GOOD GIRLS | 24.00 | Romance, Drama | 13 Films | 13 | 0 |
| tt2258858 | WADJDA | 13.00 | Comedy, Drama | The Match Factory | 3 | 0 |
| tt2788716 | WELCOME TO ME | 1.00 | Comedy, Drama | Cargo Entertainment | 8 | 0 |
| tt2334873 | BLUE JASMINE | 26.00 | Drama | Producer-repped | 18 | 0 |
| tt6135348 | BPM (BEATS PER MINUTE) | 5.00 | Drama, LGBT | Films Distribution | 12 | 0 |
| tt2883512 | CHEF | 30.00 | Drama, Comedy | Aldamisa Entertainment | 22 | 0 |
| tt6238896 | EARTH: ONE AMAZING DAY | 11.00 | Documentary, Family | Goldcrest Films | 8 | 0 |
| tt2113659 | ELSA AND FRED | 7.00 | Drama, Comedy | Lotus International | 13 | 0 |
| tt2112152 | FOR NO GOOD REASON | 25.00 | Documentary | Independent Film Sales | 1 | 0 |
| tt2115295 | GINGER & ROSA | 19.00 | Drama, History | Hanway Films | 19 | 0 |
| tt5804038 | I AM NOT YOUR NEGRO | 17.00 | Documentary | Wide House | 12 | 0 |
| tt1935156 | JODOROWSKY'S DUNE | 16.00 | Documentary | Producer-repped | 1 | 0 |
| tt1311071 | KILL YOUR DARLINGS | 16.00 | Biography, Drama | Lotus Entertainment | 5 | 0 |
| tt2802154 | LEVIATHAN | 25.00 | Drama | AR Films | 12 | 0 |
| tt1864405 | LOW DOWN | 27.00 | Biography, Drama | Producer-repped | 10 | 0 |
| tt2210781 | LULLABY | 13.00 | Drama | Westend Films | 13 | 0 |
| tt0790770 | MILES AHEAD | 22.00 | Biography, Music | IM Global | 10 | 0 |
| tt4209788 | MOLLY'S GAME | 22.00 | Biography, Drama | Sierra/Affinity | 19 | 0 |
| tt2059255 | NO | 15.00 | Drama | Funny Balloons | 10 | 0 |
| tt1714915 | ONLY LOVERS LEFT ALIVE | 11.00 | Drama, Comedy | HanWay Films | 11 | 0 |
| tt3316960 | STILL ALICE | 16.00 | Drama | Memento International | 10 | 0 |
| tt2205697 | STUCK IN LOVE | 2.00 | Drama | Solution Entertainment | 18 | 0 |
| tt2245151 | SUPREMACY | 12.00 | Drama, Crime | The Exchange | 18 | 0 |
| tt2815902 | THE CHILDHOOD OF A LEADER | 22.00 | Drama, Mystery | Protagonist Pictures | 22 | 0 |
| tt2309788 | THE GATEKEEPERS | 1.00 | Documentary | Les Films du Poisson | 1 | 0 |
| tt1700845 | THE INVISIBLE WOMAN | 24.00 | Biography, Drama | Westend Films | 8 | 0 |
| tt2404461 | THE PAST | 20.00 | Drama, Mystery | Memento International | 15 | 0 |
| tt1638353 | THE PATIENCE STONE | 14.00 | Drama, War | Le Pacte | 3 | 0 |
| tt3885524 | THE PHENOM | 24.00 | Drama, Sport | Conquistador | 8 | 0 |
| tt1002563 | THE YOUNG MESSIAH | 11.00 | Drama, Biblical | Hyde Park International | 24 | 0 |
| tt3089388 | TIM'S VERMEER | 31.00 | Documentary | Producer-repped | 1 | 0 |
---