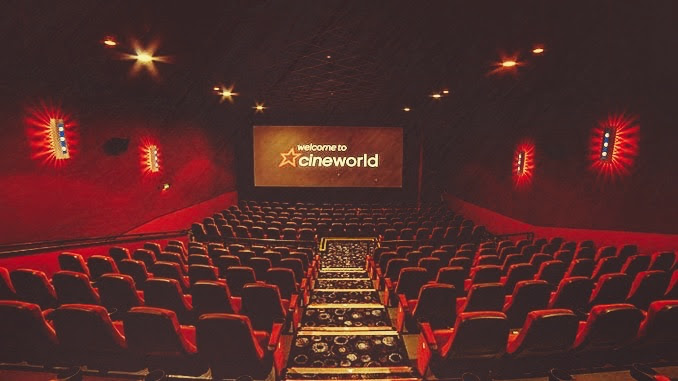 As the coronavirus threatens to close movie theaters in the US and beyond, Cineworld has warned that there is "significant doubt about the group's ability to continue as a going concern."
Cineworld's financial health has been on life support since the theater chain borrowed heavily to acquire Canada's Cineplex in December 2019 and the US's Regal Cinemas in 2018.
Cineworld is said to be involved in a law that would suspend rent payments as it seeks to control its costs.
The banks have already forced Cineworld's top shareholder to refinance a loan without equity collateral. This move is yet another sign of mounting stress in Europe's junk debt market.
---
Bad Week
Cineworld's stock price plunged from 220 pence at the beginning of the year to 44 pence on Friday after snowballing over 70% last week alone.
UPDATE: Shares plummeted 43% on Tuesday to end under 22 pence. However, on Wednesday shares soared 151% to finish above 53.
Analysts estimate that Cineworld is burning through £100 million a month, which given their cash-on-hand, the company could collapse inside of three months if the pandemic expands. Temporary closure of theaters could force the company to breach several financial covenants and debt commitments.
Theaters are bracing for more disappointment after measures to limit large crowds have begun. AMC, the world's largest exhibitor, announced on Friday that its theaters would limit capacity to at least 50%.
However, after film releases have been suspended, most notably the new James Bond movie, people will not be flocking to the theaters anytime soon, even if they remain partially open.
---
Pay The Piper
Cineworld's debt stands around £3.6 billion, and it has a revolving credit facility of £450 million, of which 21% has been drawn down. If they go beyond 35%, its covenants will be triggered. Beyond the credit facility, the company must maintain its loans at 5.5 times net debt-to-ebitda (earnings before interest, taxes, etc.) through the end of the year. If Cineworld crosses this threshold, it would breach loan limits.
Although Cineworld shareholders agreed to purchase Cineplex in December, the deal, which includes a $2.3 billion loan, it is not officially closed. However, there is little chance of undoing the acquisition after passing a shareholder resolution.
It's worth noting that between 55–70% of Cineworld's costs are variable, meaning if their doors are closed, these expenses are close to zero. However, such a disruption to revenue and thereby earnings would crush the company under its massive debt pile.
The company's spending spree started in 2018 when it purchased Regal Cinemas for $3.6 billion, which lumbered it with $4 billion in net debt. The company doubled down on screens with high-yield debt at the worst possible time. Cineworld's debt-laden ways, exacerbated by the pandemic, will likely lead to its insolvency.
---
Owners Sell Shares
Before last week's wild ride for global stock markets, the owners and operators of Cineworld sold shares. Moshe and Israel Greidinger sold nearly 8% of Cineworld, which was 30% of their position, through their holding company Global City Theaters at a slight discount to the closing price on Friday, March 6th. The sale netted the duo £116 million.
The stock sale was related to a bank-mandated refinancing by their holding company. Singapore's sovereign wealth fund was one of the primary buyers of the shares. Regardless of the sale's intent, when news of the hit the market, Cineworld investors pounded the stock, which lost a fifth of its value the following Monday.
On March 13th, when asked about the company's liquidity issue, the company's CEO and largest shareholder, Moshe, said, "we are not worried."
Flawed Strategy
Although the owners could not have predicted a disease outbreak from China when they took on so much, their approach was critically flawed from the outset.
Combining operational leverage with financial leverage in a cyclical industry is a recipe for disaster. Essentially, the company used junk bonds to fund the acquisition of expensive assets that have been declining in most markets for years.
Last year on paper, the British film exhibitor Cineworld became the largest theater chain in North America after buying Canada's Cineplex for $2.1 billion, which included $1.65 billion in cash and an assumption of its debt. Cineworld paid an astonishing 42% premium on top Cineplex's previous day closing price when announced on December 15th.
The acquisition of Canada's largest theater chain, which controls over 75% of the box-office market share, came only two years after Cineworld acquired Regal Entertainment in the US for $3.6 billion.
Since the middle of the last decade, streaming subscriptions have increased over 200%, while ticket sales have slowed in most developed markets. The box office in the US and Canada has been flat at around 1.25 billion tickets sold over this period, while revenues have ranged between $10 billion to $12 billion based on price increases.
Cineworld now operates 9,500 screens around the world, with 7,200 in the United States and Canada, which translates to 75% of its revenue. The company also has screens in the UK, Ireland, Poland, Israel, Hungary, Czech Republic, Bulgaria, Romania, and Slovakia.
---
FilmTake Away
Plans to provide higher-end concessions and add more luxurious seating is likely too little too late to reverse a decade-long decline and lure crowds back to theaters. People have grown too accustomed to binging on a plethora of streaming options in the comfort of their homes.
If the coronavirus continues spreading and repeats the pattern of human suffering and death experienced in China, Italy, and Iran, companies that produce, deliver, and promote public entertainment will be the hardest hit.
---