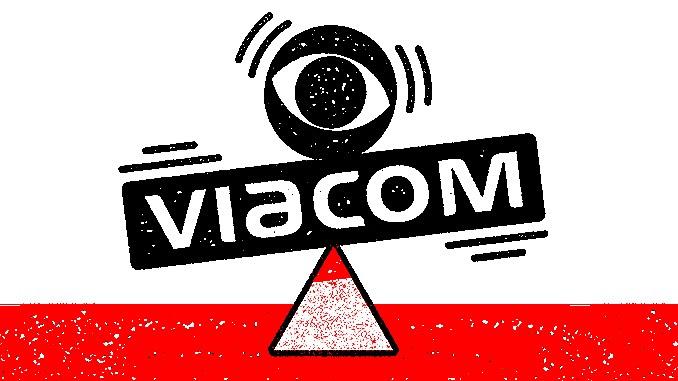 For the third time in less than four years, CBS Corp. is yet again planning to merge with Viacom.
According to insiders, parties at both companies have initiated preliminary talks on the matter and started outlining deal points.
Thirteen years ago, Sumner Redstone split up his media empire into two companies. However, both remained under the control of his parent company National Amusements, Inc. Sumner and his daughter Shari own 80% of the voting shares of CBS and Viacom (owner of Paramount Pictures).
---
Déjà Vu Allover Again
In late 2016, the board of CBS considered a buyout of Viacom. However, the company walked away because valuing Viacom proved too challenging.
The next attempt to merge took place in 2018, which resulted in a lawsuit by CBS shareholders against the Redstone family and National Amusements for breach of fiduciary duty.
A settlement was reach in the case that specified that National Amusements couldn't propose a merger for at least two years. However, the deal didn't preclude the board of CBS proposing a merger if two-thirds are in agreement.
Viacom has long been the laggard of the two as cord-cutting drags down ratings for its cable networks and Paramount's lackluster box office performance continues unabated.
CBS is now under new stewardship after its longtime CEO was forced to resign after sexual harassment allegations. It remains to be seen if the network can rebound as ratings plunge further down.
This third merger attempt to combine the Redstone media empire makes less sense from a creative and business perspective than the last time. Perhaps, in the past there was an argument for integration, but this latest attempt is merely a move to seem relevant as Disney, NBCUniversal, and WarnerMedia consolidate near absolute power of the media.
For the record, Viacom shares have fallen more than 60% over the last five years; during the same period shares in CBS fell 22%. For some perspective, Disney shares grew by 70% in the last five years.
---
Possible Turnaround
After years of internal divisions, family squabbles, lawsuits, and sexual harassment investigations, Viacom and CBS are just now starting to resemble real companies again. Both companies have made recent acquisitions aimed to end years of stasis.
Bob Bakish took over Viacom in 2018, and since he has been credited with turning around the trouble company, but the bar was so low, it's hard to objectively judge his performance. That being said, he is the frontrunner to take over control of both companies if the merger goes through.
---
Viacom Acquires Pluto TV
Viacom acquired the niche streaming service Pluto TV for $340 million in cash. This is Viacom's better-late-than-never attempt to compete in the streaming market long dominated by Netflix.
After decades of streaming supremacy by Netflix, most media empires are simultaneously launching competitive services this year, including Apple, Disney, WarnerMedia, and NBCUniversal.
Pluto TV was first launched in 2013 from investments by Samsung and Germany's ProSieben. Currently, the service has 12 million monthly active subscribers that feature live linear television from over 100 channels, as well as on-demand movies and shows.
Pluto TV is a free, ad-supported service similar to Hulu. The Pluto TV acquisition is a direct response to NBCUniversal recently announcing a similar service.
Comcast's NBCUniversal is launching an ad-supported streaming service that will be free to its 52 million PayTV subscribers. The yet unnamed service is slated to launch in 2020 and will include film and television content from the company, as well as additional original and acquired titles. Comcast will also make the service free to other U.S. PayTV companies that offer NBC packages; these include Charter Communications and Cox Communications.
Similarly, Viacom will let cable carriers such as Comcast and Charter Communications offer the service to their broadband-only customers.
---
CBS Acquires Pop TV
CBS bought the remaining 50% stake in Pop TV from Lionsgate; now the company owns the channel outright. The company first purchased 50% of Pop TV in 2013 for $100 million. At that time the channel was called TV Guide Network. Currently, Pop TV airs mainly reruns of popular sitcoms that are widely available on many platforms.
When Lionsgate initially purchased Pop TV in 2009, the company paid $255 million when the channel was available in 85 million homes – now the channel reaches around 70 million households. Pop TV's viewership is way down from, nearly 40% since 2014.
CBS's biggest premium cable channel is Showtime; the company also owns regular cable channels like Smithsonian Channel and CBS Sports Network.
---
FilmTake Away
The merger of Viacom and CBS will have little impact on the creative output of the companies. Both will still remain under the erratic control of the Redstone family and will most likely continue to operate like separate companies.
---