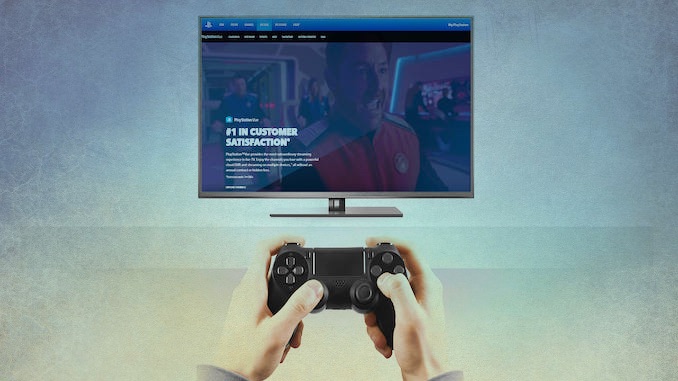 Sony Pictures is shutting down its PlayStation Vue streaming television service in the first quarter of 2020.
There is far too much well-funded competition for fence-sitting Sony to compete in the streaming market. Rising content costs and a plethora of choices have made the service untenable.
Although Sony hasn't published the number of subscribers for the service, FilmTake estimates there are approximately 1.25 million.
---
First Mover Disadvantage
The service launched in 2015 by allowing PlayStation gaming console users to stream live television and record programming through devices like Roku and Apple TV. The price of the service doubled over five years. The cost currently ranges between $50 to $85 per month.
Playstation Vue was at the forefront of live television streaming along with Sling TV. However, since its debut, there are more than a dozen stand-alone live television streaming services such as Hulu, YouTube TV, Amazon Channels, and Fubo TV.
Sling TV remains one of the largest live television streaming services, with over 2.5 million subscribers.
---
Sony Pictures Stumbles
Sony's performance at the box office has continued to slide since the middle of the last decade. The company's film slate developed by Amy Pascal, which were released from 2015 through 2017, were the worst-performing years in Sony's recent history, with 2015 being the company's worst performance.
Last year and 2018 proved turnaround years from the darkest days, but Sony continues to rely on heavily remakes and reboots. Without the Spiderman franchise, the studio would have almost no hits. The James Bond remained a bright spot, but that franchise has recently moved on. The resurrected United Artists will release the forthcoming Bond film.
This year Sony is again releasing a film slate of remakes and reboots, including Top Gun 2, Coming to America 2, Escape Room 2, another The Grudge, and a selection of animated films, which have performed marginally well for the studio, including SpongeBob Squarepants.
---
Sony Sale
For years the parent company has been under pressure by activist investors calling for the film and television division to be established as a separate company. Many have tried, including currently Third Point LLC, but these efforts will likely end in vain.
The film and television division only accounts for around 10% of Sony Corp.'s revenue, but it remains a valuable marketing tool for the electronics conglomerate.
The closest Japan came to selling the film unit was in 2017. Sony Group CEO Kazuo Hirai temporarily relocated to Los Angeles to help right the ship while maintaining he was not in town to evaluate the film unit for a possible sale.
During that period, one frustrated executive from Japan, who would not go on the record, said the sale of the film division, although unthinkable a year prior, was a topic of conversation among board members and executives.
While top executives in Los Angeles haggled over multi-million-dollar pay packages to help turnaround the studio and their chain of command, Sony's middle managers and film executives left in droves bound for Netflix, Amazon, and elsewhere.
---
FilmTake Away
Sony Corp. views the film and television studio as a worthwhile platform for its global brand and Japan's soft power in the world, regardless of its continued financial losses.
There was speculation that Amazon Studios might offer to buy the film and television division from Japan, especially after Amazon secured office and studio space next to Sony in Culver City, but nothing came from the rumors.
---